Coronavirus live news: South Korea may return to restrictions after cases spike as US deaths pass 100,000 | World news
'Things have to change': tourism businesses look to a greener future
No planes in the sky, empty hotels and deserted attractions: with the world at a standstill, the tourism industry has been one of the industries worst-hit by the Covid-19 pandemic. International arrivals this year could be down by 80% compared with 2019, according to the World Tourism Organization, and more than 100 million jobs are under threat.
But as destinations slowly start to emerge from lockdown and borders tentatively reopen, many in the sector are wondering if this is a chance for tourism to rebuild in a greener, more sustainable way.
WHO launches foundation to put finances in better health
UK front pages, Thursday 28 May
The fallout from Dominic Cummings trip to Durham continues to be splashed across the front pages, including the news that senior ministers are breaking ranks over the beleaguered advisor's trip.
The Guardian says "Tories defy PM to pile pressure on Cummings", including 61 MPs who are refusing to heed Boris Johnson's calls to "move on". It says two of those condemning Cummings are government whips, in addition to Penny Mordaunt, now the paymaster general, who said there were "inconsistencies" in Cummings' account of the trip.
The Guardian also gives prominence to Emily Maitlis, who was replaced as the BBC's Newsnight presenter on Wednesday after a statement from the broadcaster said she broke impartiality rules on Tuesday's programme, when she said Cummings broke the rules and: "the country can see that and is shocked the government cannot". The programme's editor, Esme Wren, wrote on Twitter that Maitlis "hasn't been replaced tonight in response to the BBC statement".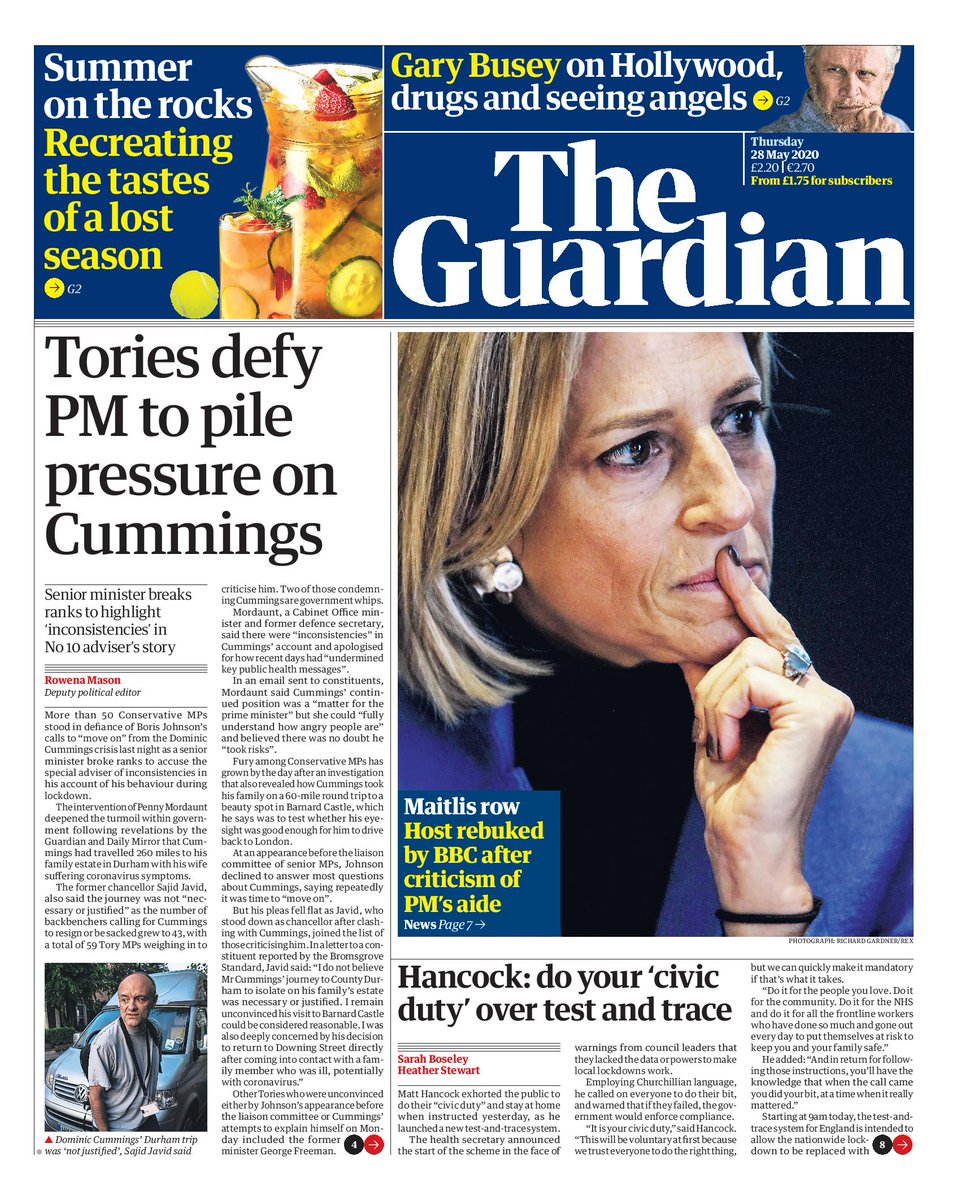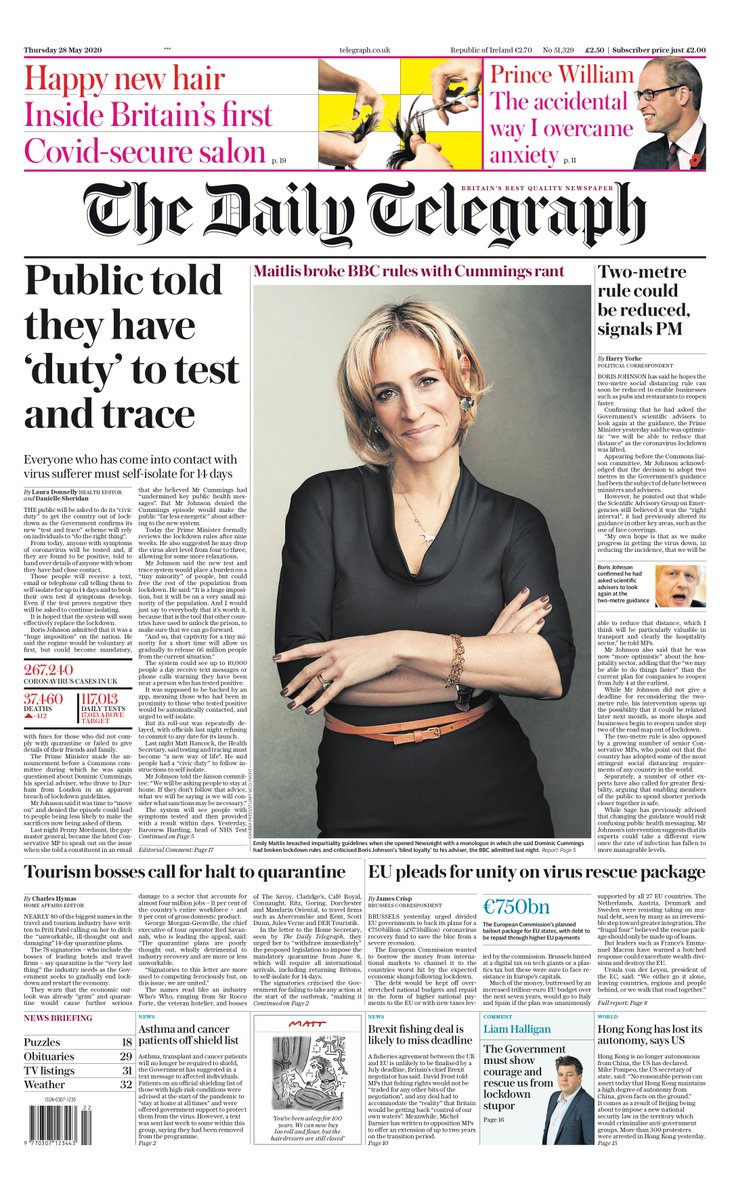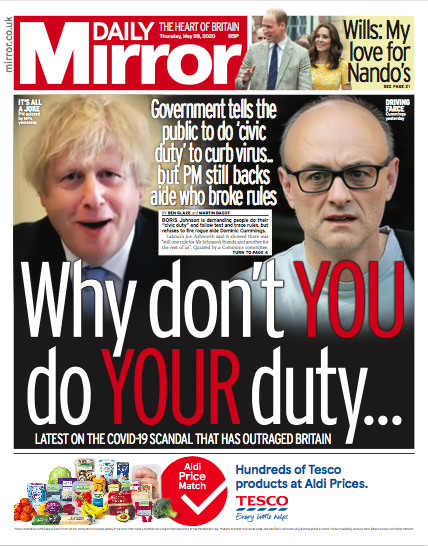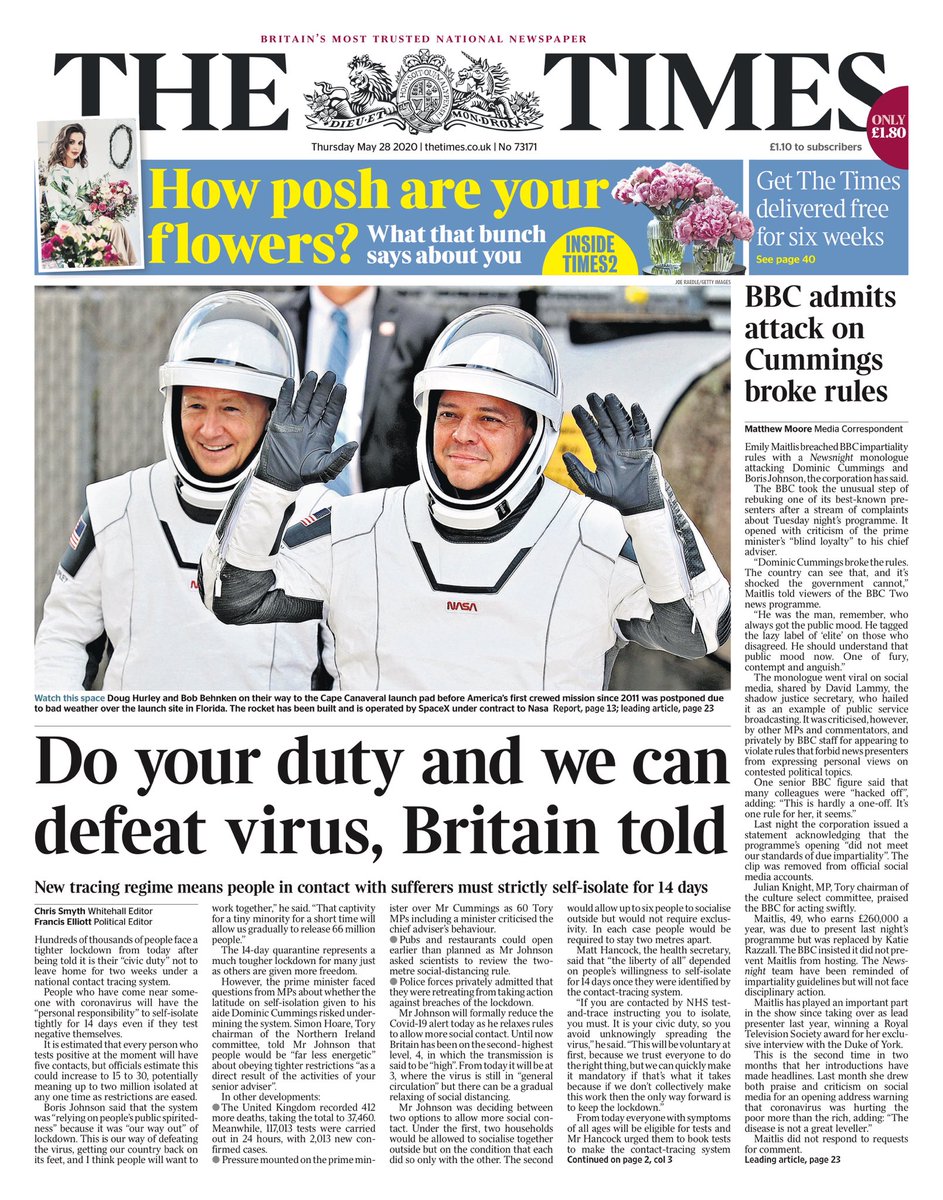 A full roundup of the papers at the link below:
Trump silent on US death toll
Donald Trump remained silent on the death of more than 100,000 Americans from Covid-19 as the US mourned the milestone. The president made no comment on Twitter about the momentous day, but used the platform to attack tech companies for trying to censor him, a day after Twitter put a fact-check warning on one of his claims.
As US deaths from Covid-19 topped 100,000 and infections neared 1.7 million, White House officials on Wednesday said Trump would sign an executive order that could threaten punishment on social media companies on Thursday, sparking a fall in the share prices of both Twitter and Facebook.
"Republicans feel that Social Media Platforms totally silence conservatives voices," Trump tweeted on Wednesday morning. "We will strongly regulate, or close them down, before we can ever allow this to happen."
Eric Trump, the president's son, also attracted criticism for ignoring the coronavirus fatalities, instead tweeting about the day's stock market's surge.