Coronavirus live news: US nears 5m cases as Australia records deadliest day | World news
1 year ago
world author
North Korea's ruling party has delivered aid packages of food and medical supplies to residents of Kaesong, close to the border with the South, after imposing a lockdown there due to coronavirus concerns, state media reports.
Last month, North Korean leader Kim Jong Un declared an emergency and imposed a lockdown on the small border town after a 24 year old, who defected to South Korea in 2017, returned to Kaesong across the highly fortified border showing coronavirus symptoms.
Seoul officials said the individual returned to the North after facing a sexual assault investigation in the South. South Korean health officials said there was no sign he was infected before he crossed the border, and at least two people who were in close contact with him have tested negative.
Pyongyang has not confirmed any coronavirus infections but has been taking strict quarantine measures and screening the town, while providing food, test kits and other medical equipment, according to state media. State television on Sunday showed a train arriving at the Kaesong station and trucks delivering supplies to residents.
"Australia has recorded its deadliest day of the coronavirus pandemic so far, after 17 people died in Victoria in the 24 hours between Saturday and Sunday.
Ten of the 17 deaths were linked to aged care homes, and the state also recorded 394 new cases of Covid-19, premier Daniel Andrews announced.
Sunday's figures surpass the previous deadliest day – Wednesday – when Victoria reported 15 deaths, including a man in his 30s. A second man in his 30s died in the state on Saturday."
Here is the full report on Australia's deadliest day in the coronavirus pandemic, from my colleague Naaman Zhou:
The Welsh first minister Mark Drakeford has urged people to "continue to keep 2m from others and wash your hands often", ahead of further reopening in Wales tomorrow.
Swimming pools, indoor fitness studios, gyms and leisure centres are set to reopen in Wales tomorrow. Children's indoor play areas are also allowed to open, but should keep areas which are difficult to clean closed.
The US Secretary of Health and Human Services has arrived in Taiwan, on a trip intended to strengthen economic and public-health cooperation between the US and Taiwan, and to support Taiwan's international role in fighting the coronavirus pandemic.
On Monday health secretary Alex Azar will sign a 'health cooperation memorandum of understanding' with Taiwan's government, and visit Taiwan's Centres for Disease Control. He is also set to meet President Tsai Ing-wen during his visit.
The trip has been condemned by China, who claim the island belongs to them. Washington broke off official ties with Taipei in 1979 in favour of Beijing, but the Trump administration has made strengthening its support for the island a priority, and has boosted arms sales.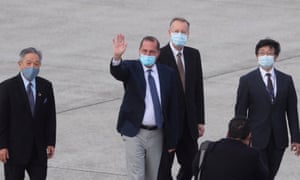 With tensions already mounting between Beijing and Washington, over issues including human rights, trade and the coronavirus pandemic, has threatened counter-measures to the visit, but has not specified what these might be.
Azar arrived at Taipei's downtown Songshan airport on a US government aircraft late in the afternoon, and was met by Brent Christensen, the de facto US ambassador to Taiwan, and by Taiwan Deputy Foreign Minister Tien Chung-kwang. There were no handshakes, and masks were worn.
Taiwan's case numbers have been far lower than those of its neighbours, generally put down to early and effective preventative measures. So far, it has recorded 480 infections, including seven deaths. Most cases have been imported.
"Health specialists in the American midwest predict a sharp increase in deaths across the region in the coming weeks, that will be made significantly worse in some states by the politicians who followed Donald Trump's lead in undermining medical advice and in questioning the value of masks.
Anthony Fauci, the president's lead coronavirus expert, recently warned the midwest's political leaders to follow the science.
"Some states are not doing that," he said. "We would hope that they all now rethink what happens when you don't adhere to that. We've seen it in plain sight in the southern states that surged."
Coronavirus deaths in the midwest remain a fraction of the nearly 160,000 recorded during the pandemic across the US. But Missouri is second only to Oklahoma in the number of new positive tests for the virus over the past two weeks."
Read the full story as America's midwest braces itself for a Covid-19 surge from my colleague Chris McGreal here:
A man in Australia's Northern Territory, who had just one day of mandatory quarantine left, has been given a $5,000 fine after he was caught trying to sneak out early.
The 20-year-old was issued with a $5,056 penalty after police and staff discovered him trying to leave Darwin's Howard Springs quarantine facility a day before his release date. Police said the man would remain overnight to finish his isolation before being allowed to leave.
The Northern Territory has reopened its borders to all Queenslanders but parts of New South Wales, and all of Victoria, are still designated coronavirus hotspots.
Lebanon's Information Minister, Manal Abdel Samad, has announced her resignation, citing the government's failure to introduce reforms, and the enormous explosion that devastated Beirut this week.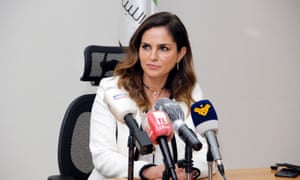 I'll share any more information as soon as I have it.
Hong Kong has today reported 72 new coronavirus cases. Of these, 63 were locally transmitted. This is a slight increase from Saturday's figures of 69 new cases.
More than 4,000 people have been infected in Hong Kong since January, 51 of whom have died.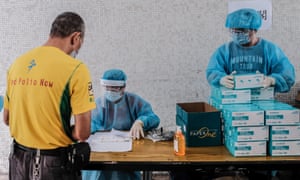 Updated

Indonesia reported 1,893 new coronavirus infections on Sunday, taking the country's total number of cases to 125,396.
The number of death rose 65 on Sunday, bringing the total number of deaths to 5,723.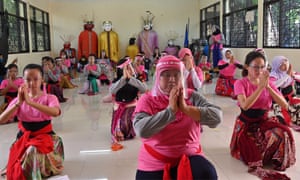 Updated

UK prime minister Boris Johnson has reiterated his support for prioritising the reopening of schools.
In a tweet, Johnson shared the link to a piece he wrote in the Daily Mail on the reopening of schools, saying: "keeping our schools closed a moment longer than is absolutely necessary is socially intolerable, economically unsustainable and morally indefensible."
Scientific advisors have warned that retail and hospitality venues may need to close to be able to reopen schools safely at the start of the academic year next month.
You can read more on this story here:
Updated

"It looks like children overall have a transmission efficiency of about 50% of adults, although that varies dramatically across age groups," says Susan Coffin, an infectious disease physician at the Children's Hospital of Philadelphia. "As children enter their teens, the transmission efficiency begins to approach that of adults."
You can read more on the link between coronavirus and children here: