Coronavirus live news: WHO warns of global oxygen shortage as cases rise by 1m per week | World news
Oxford University rolled out Africa's first human trials for a potential vaccine against the new coronavirus in South Africa on Wednesday, as cases continue to rise and concerns grow over potential access to life-saving treatments.
Researchers in Brazil began administering the same experimental coronavirus vaccine to volunteers there, the Federal University of Sao Paulo said Wednesday. Brazil was selected because it is one of the countries where the virus is spreading fastest. It has the second-highest caseload and death toll worldwide after the United States, with more than 1.1 million people infected and 52,000 killed so far.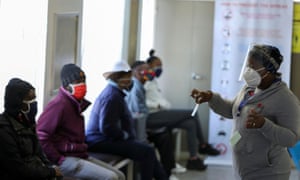 The vaccine, developed together with pharmaceuticals group AstraZeneca, is one of the most promising of the dozens that researchers worldwide are racing to test and bring to market.
The South African trial, conducted with local partner University of the Witwatersrand, will consist of 2,000 volunteers from 18 to 65 years of age, including some HIV positive patients, who will be monitored for 12 months after vaccination to asses how well the vaccine guards against Covid-19.
Hopes are that South Africa's involvement in vaccine trials will ensure the continent will have access to an affordable vaccine and not be left at the back of the queue.
South Africa is the second country outside of the United Kingdom to take part in the Oxford trial after Brazil launched its study on Wednesday.
The ChAdOx1 nCoV-19 vaccine, also known as AZD1222, was originally developed by Oxford University scientists, who are now working with AstraZeneca on development and production.
There are over 4,000 participants enrolled in the UK, with enrolment of an additional 10,000 participants planned, the university said in a statement on Wednesday.
A larger study of the same vaccine in up to 30,000 participants is planned in the United States.