How Our Fireplace Makeover Plan Got Squashed (And How We Pivoted)
If you've followed along for a while you've seen our bedroom fireplace get a few updates over on Instagram Stories, but today we're telling the whole sordid tale of how our update ideas recently veered off-course (and how we ended up at Plan B when Plan A went bust). Last time you saw it on the blog, it looked a little something like this: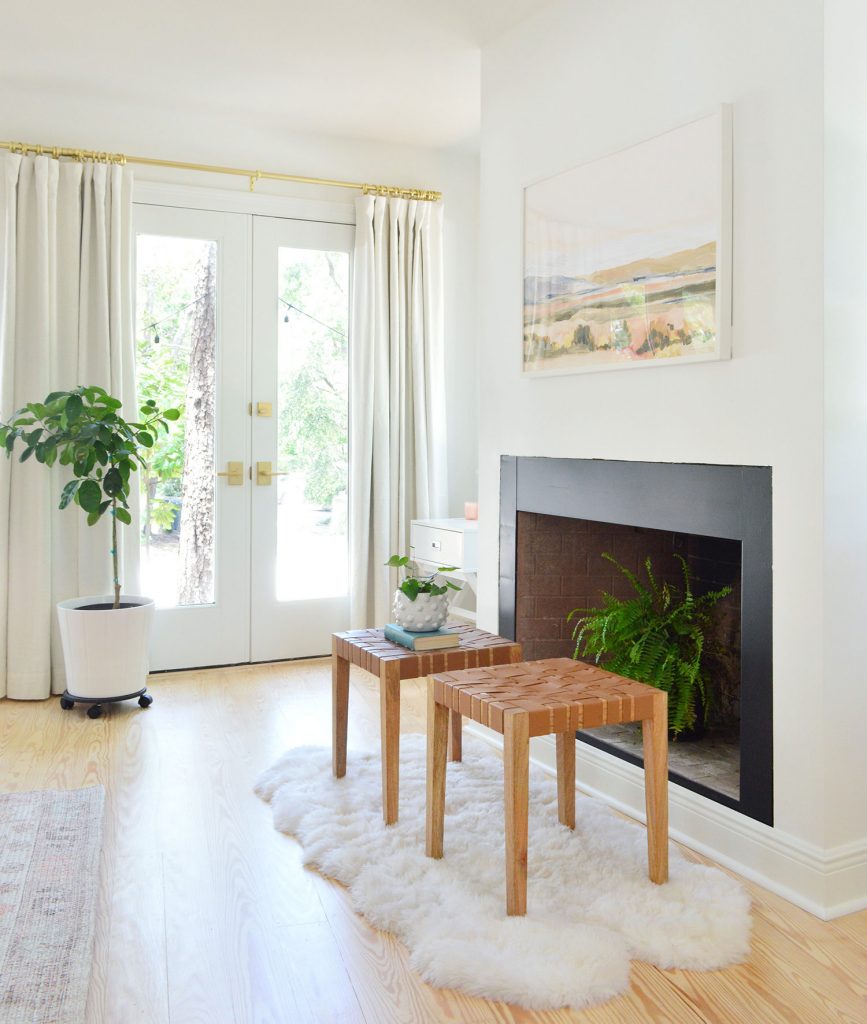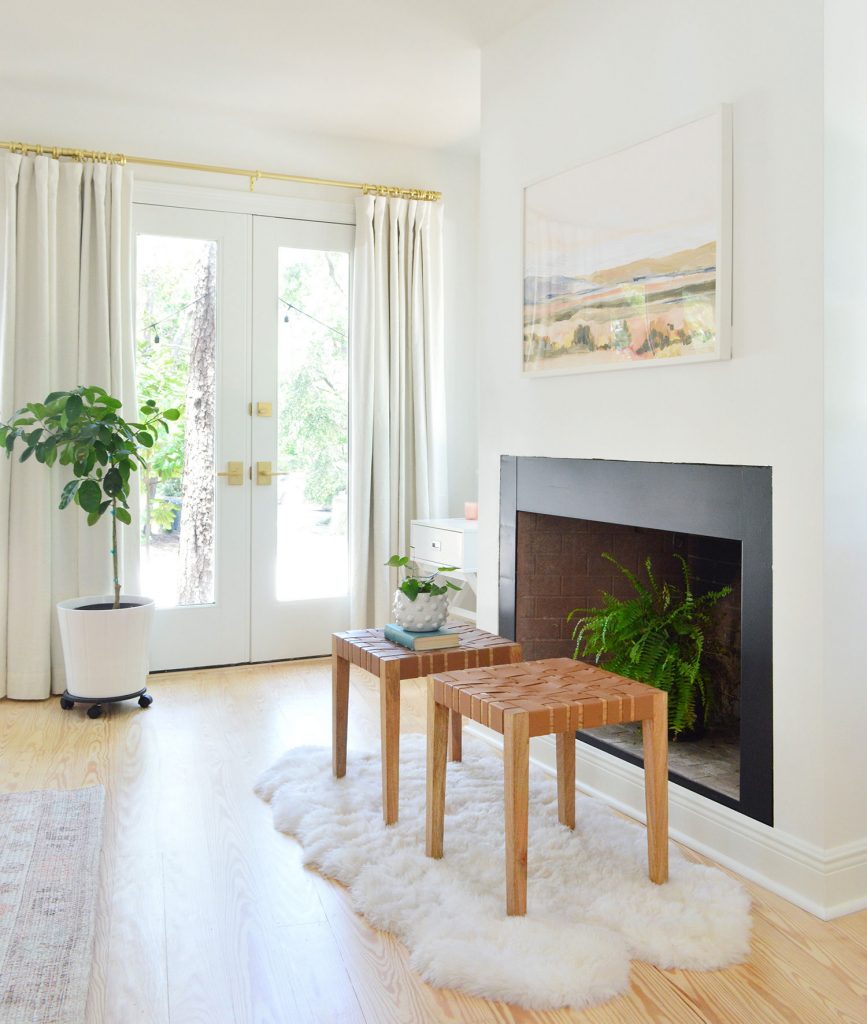 But we should rewind for a second. It was pretty bleak looking when we first started Operation Revive The Fireplace. There was a bunch of dried glue and gunk leftover from some tiles that had once covered the surround (not to mention a rusty screen and general grime). But Sherry had that look in her eye that said "don't second guess me, this is going to work" and after nearly a decade and a half of marriage I have learned not to question this look.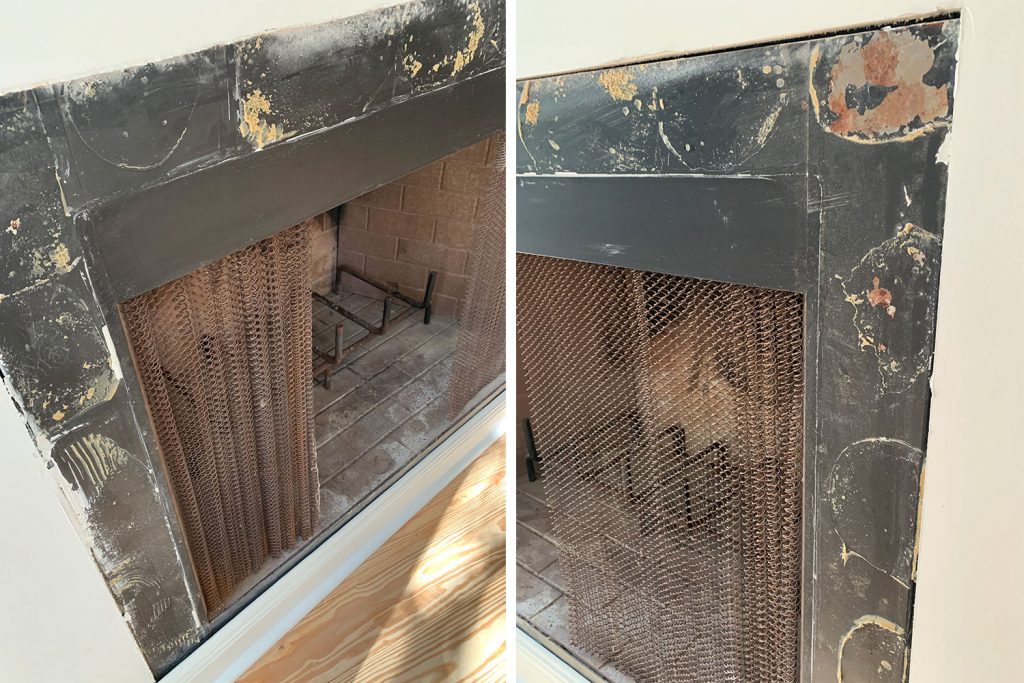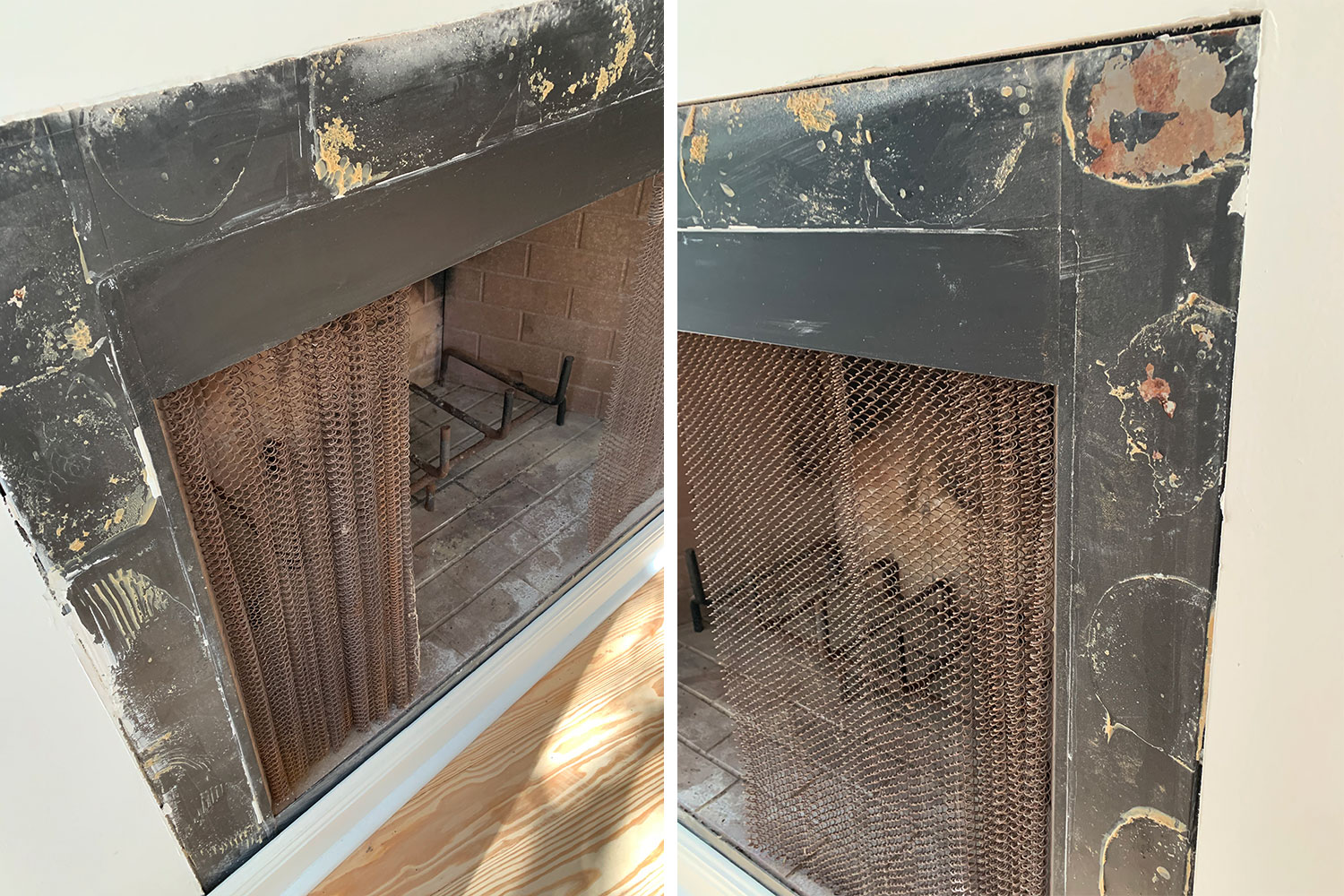 The goal was to have some gas logs installed since we got so much use out of the set in our last living room (only twist here is that this chimney isn't properly vented, so we'd need to do ventless logs here instead of vented ones). So we got on the gas company's calendar to have a line run to our fireplace, and while we waited not so patiently, Sherry used a straight razor to remove the old glue clumps from the metal surround.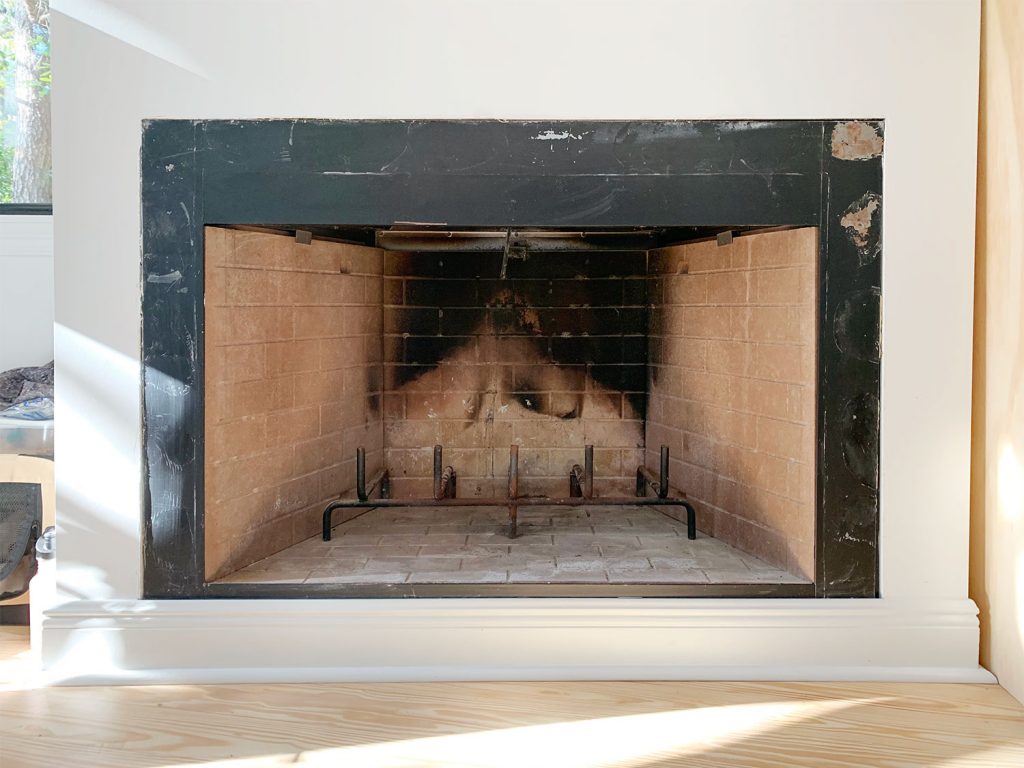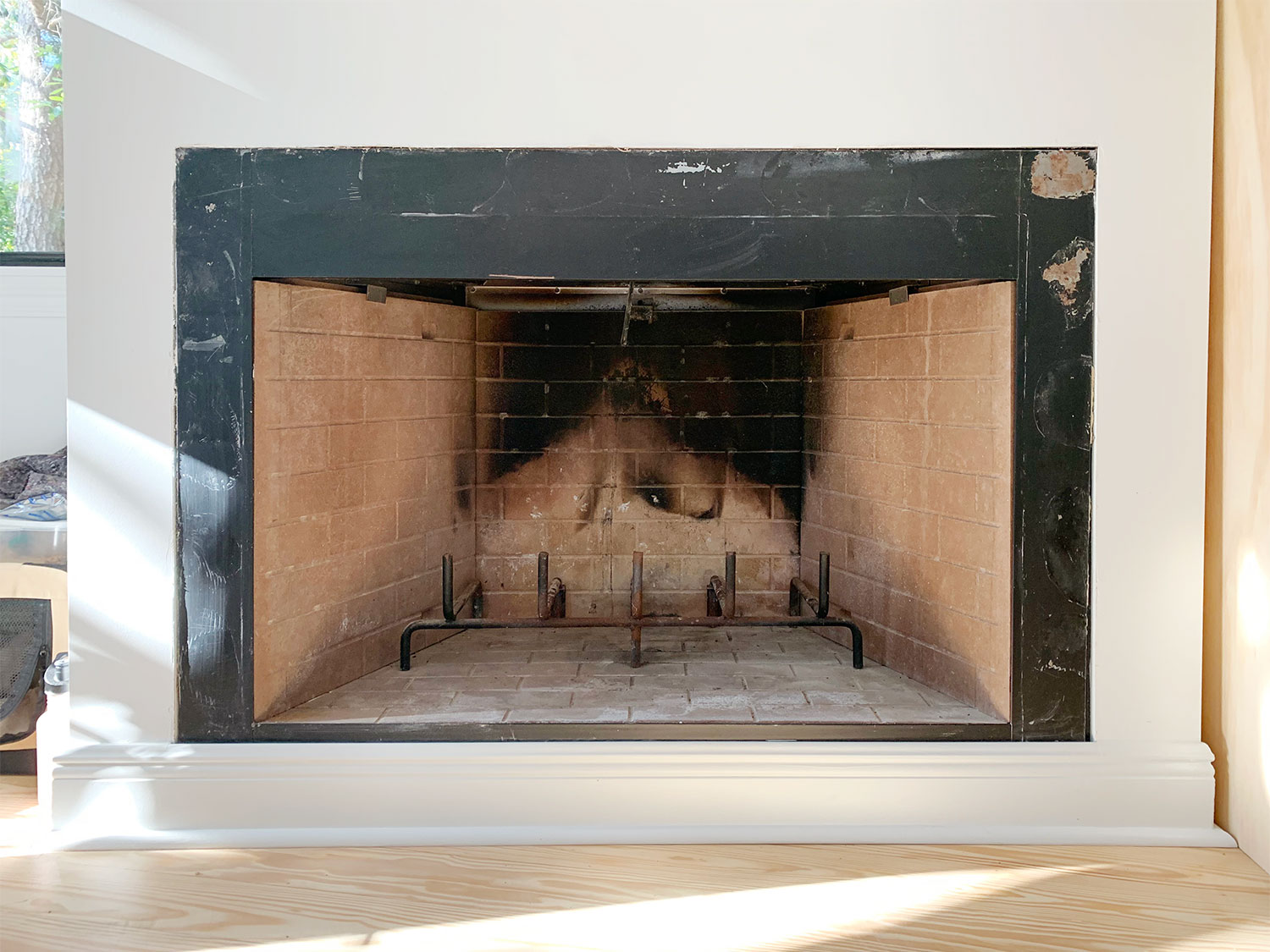 With the surface looking a lot smoother (albeit still scratched up), Sherry broke out a can of black high heat paint to not only make it look better, but also get it ready to withstand any heat from the gas logs.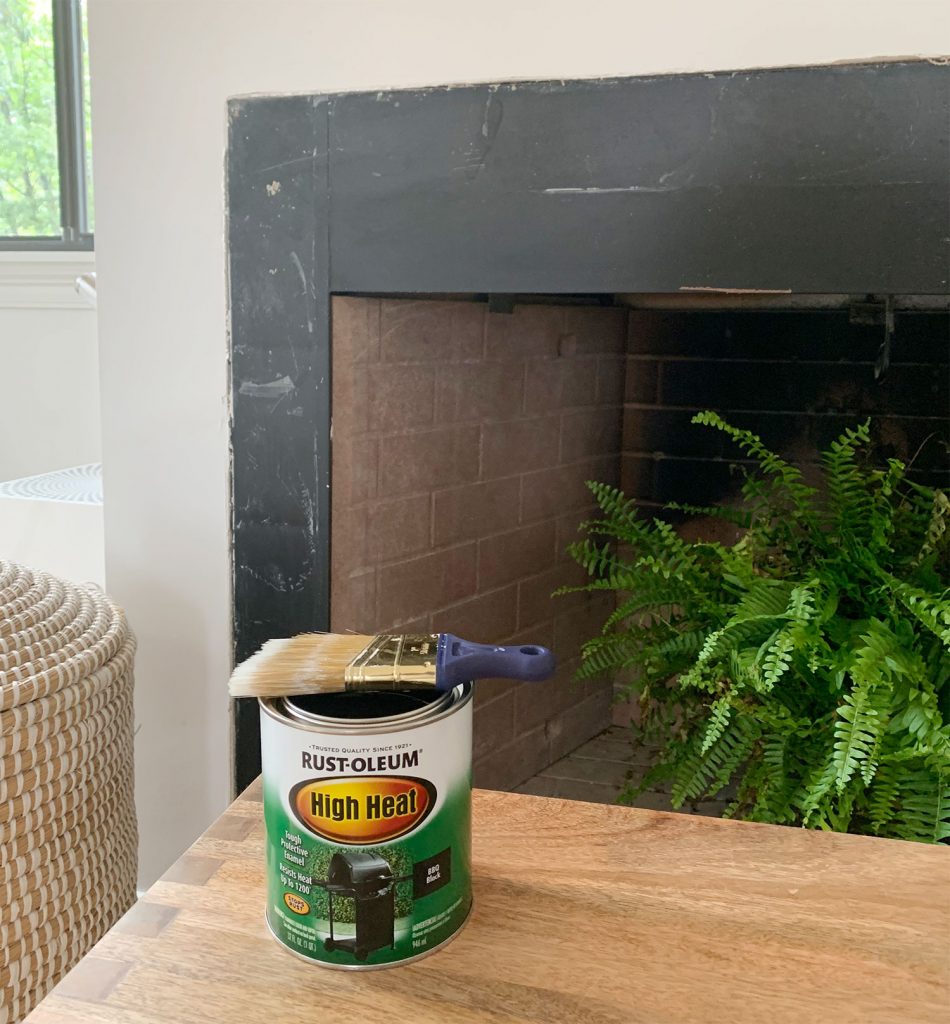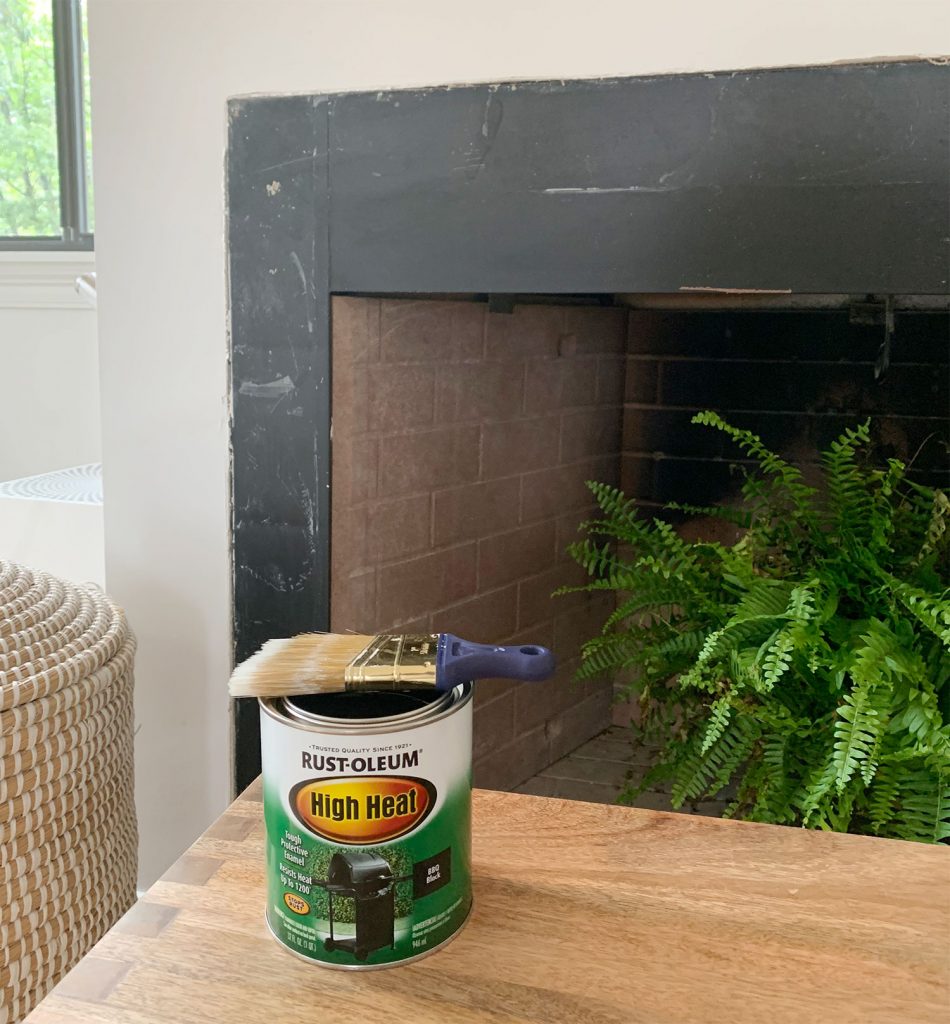 It still needed some trim around the black metal part for a cleaner look – and we thought we might add some sort of mantel down the line – but it already looked a lot better. Plus Sherry added a fern. As one does.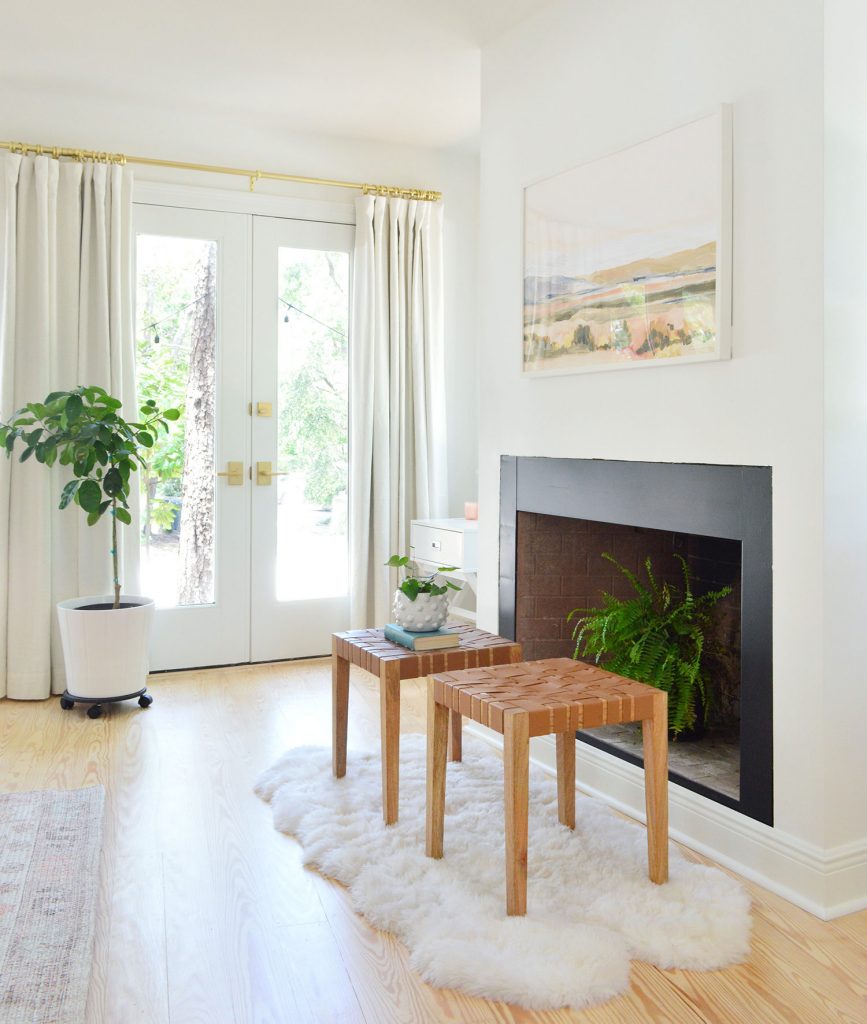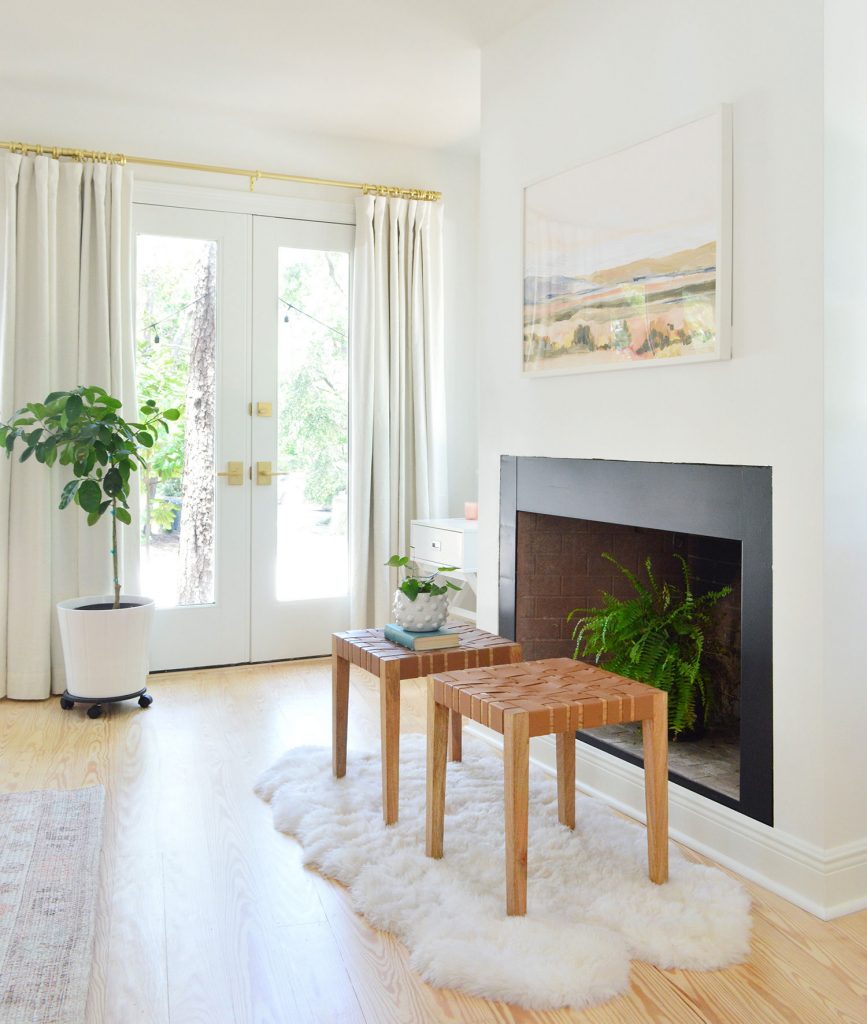 Now you may be thinking: "Why do you need a gas fireplace in Florida?" Yes, Northern FL is warm most of the time, but we still get a mild winter that definitely qualifies as fireplace weather (according to Google the average January low here is 46°). It also bears mentioning that my wife's preferred body temperature is "surface of the sun" so when this house came with a fireplace in our bedroom, she very excitedly made plans to get it functioning again. And the good news was that we could get the whole thing done through our local gas utility company. They not only came out to quote the line, but they even sell the logs themselves on their website – you just pick them out and buy them online & they come install them on your service date.
Welp. Then the big day rolled around and about ten minutes into prepping for the install, a supervisor showed up and said "Wait, this is a bedroom! These logs are ventless! Ventless logs aren't to code in a bedroom! You can only do vented logs in here!"
There were probably fewer actual exclamations in his voice, but those words certainly hit us with some force. At this point I think Sherry's face was frozen in horror at this news, and she slipped somewhere between denial and negotiating: "But the person who quoted this noted it was in a bedroom and he reminded me four times to order ventless logs, not vented ones. It said all of this on the work order…"
Sadly, no amount of discussion could change the fact that it was just a simple oversight but definitely not something that was gonna fly. The person who came out just didn't know the little detail that, out of an abundance of caution, the building code in our area doesn't allow ventless gas logs in bedrooms (I guess they don't want people putting them on overnight while they sleep). The gas company was very apologetic and quickly refunded the money we had already paid for the service call, the ventless logs we bought online, etc.
To Sherry's credit, she took it better than I expected… although, the way that she pivoted was a surprise even to me. You might think we'd pivot to getting the fireplace properly vented, but nope – that's not an appealing solution to us (we'd have to put a big tall chimney right through our upper deck – right where our outdoor dining table is or we'd have to vent out the wall… which would put an unattractive box on the front wall of our house). So instead she pivoted from gas logs to… WAIT FOR IT…
Crystals.
Yes, I said crystals.
Here's how we got there. Sherry's first step was Googling fireplaces full of candles because she figured if we couldn't have a real big flame at least we could have some real little ones to enjoy (we know some people love an electric insert but there's nothing like watching a real flame flicker and glow in the evening to us). Somehow her search turned up some pictures of fancy designer fireplaces with glass logs that sort of look like giant crystals in them. No idea how because they're not candles, but google is a fickle beast. Being ever the shiny rock aficionado, the picture of the glass logs stopped Sherry in her tracks and she said that they immediately reminded her of some smaller sticks of selenite crystal that she owns. And well… you can see where this is headed…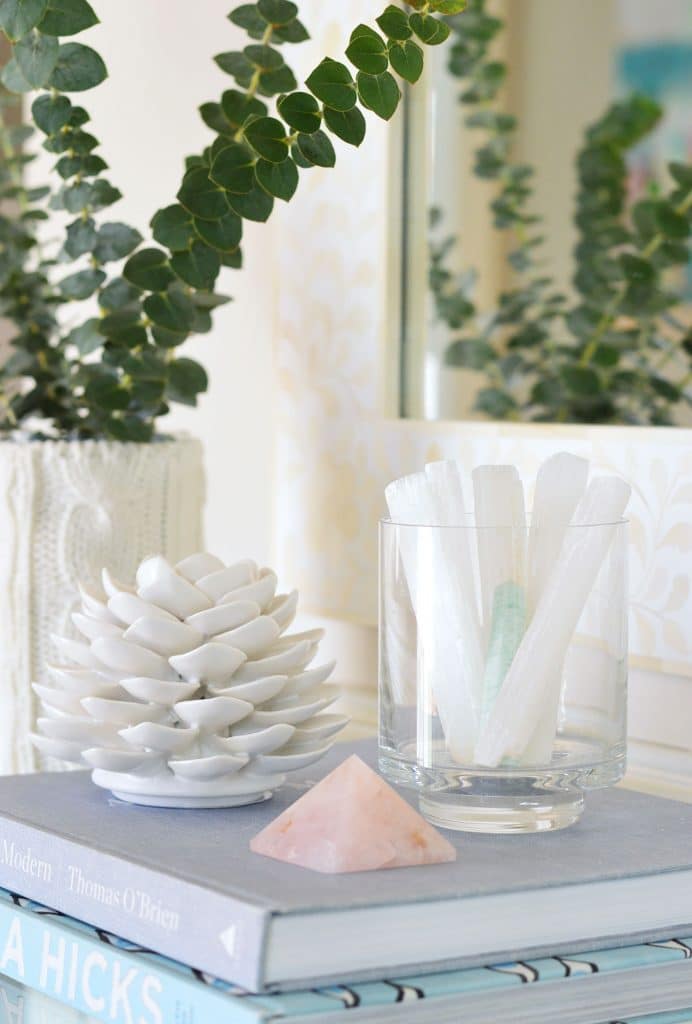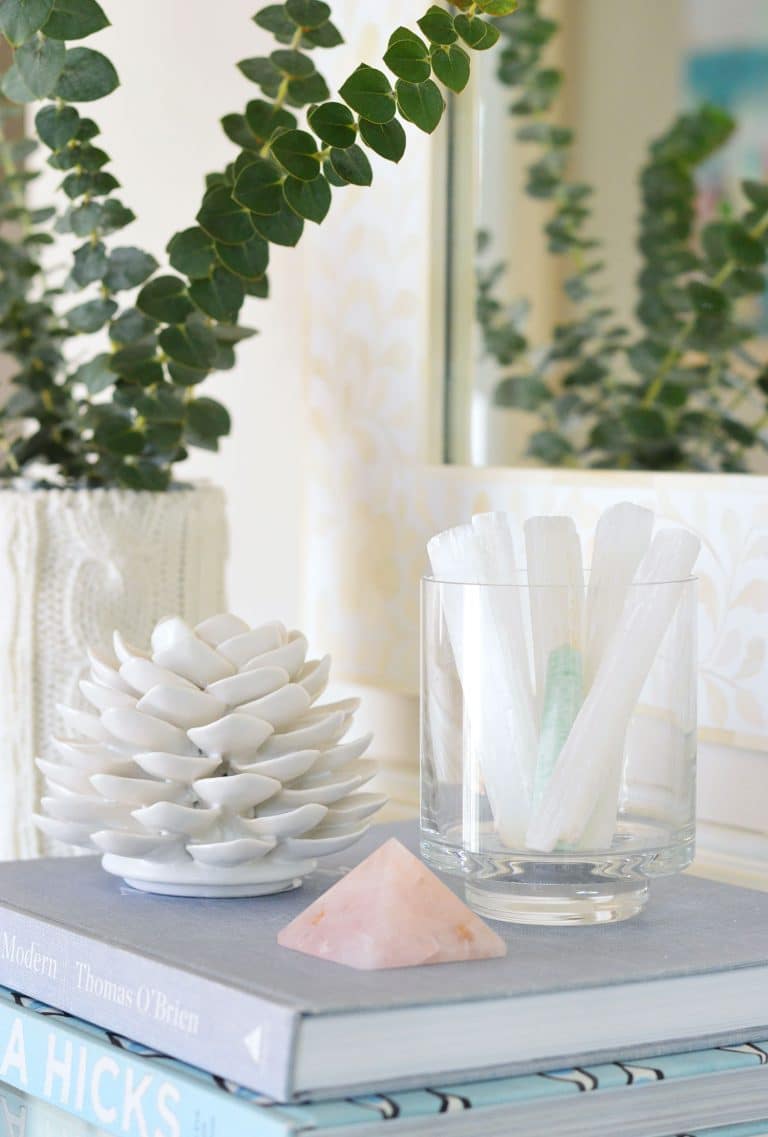 Invigorated by the prospect of having a fireplace full of crystals, Sherry began the hunt for some giant ones that might resemble logs – and figured that incorporating candles somehow in the mix would scratch the "small dancing flames among the crystals" itch that only Sherry could have. Fate led her to the Pottery Barn website, where they inexplicably were selling (on clearance for 50% off!) these large selenite crystal tealight holders. They're intended to be used as table centerpieces, but conveniently they also happen to be the approximate size of a fireplace log.
I was essentially like "WUT?" at this point, but Sherry made a strong case that (to my surprise) didn't rest entirely on "buttttt they're CRYSTAAALLLLS!!"
Her key points where (1) the sale price meant we could get a bunch of logs and still spend less than half of the price of the gas logs we had bought and returned (not counting installation fees & ongoing gas utility bills, which would add up to much more). And (2) this would be a beachy crystalline spin on those birch logs that people often stack in an unused fireplace. Also (3) they're crystalllllsssssss. So here we are: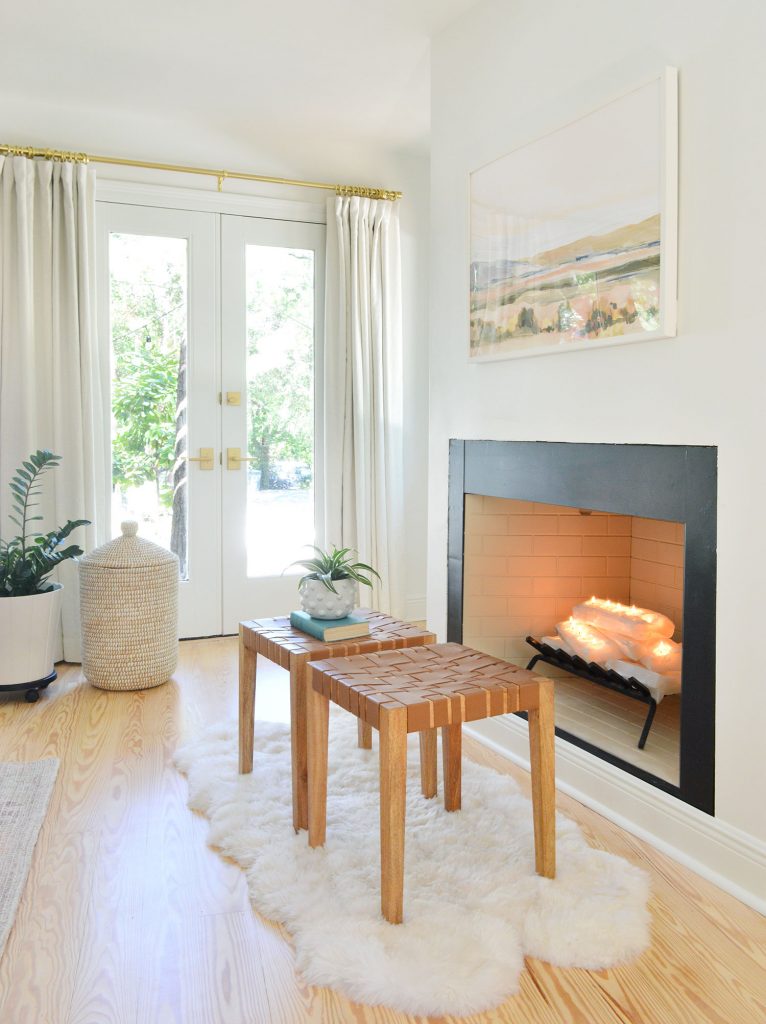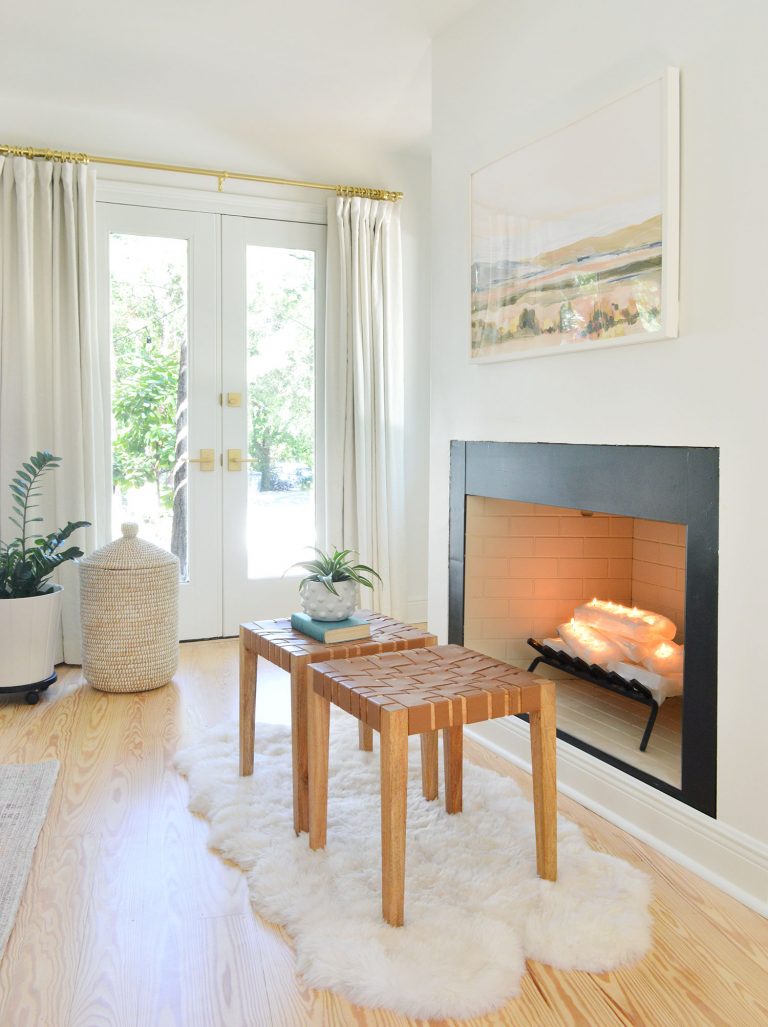 I will hand it to her, the final result is pretty darn nice – as weird as it is to say that about flaming crystals stacked in a fireplace. Maybe I need to write a book called Crystals & Candles: The Combination I Never Knew I'd Be Into – But My Wife Was Pretty Certain It Would Be Awesome The Whole Time.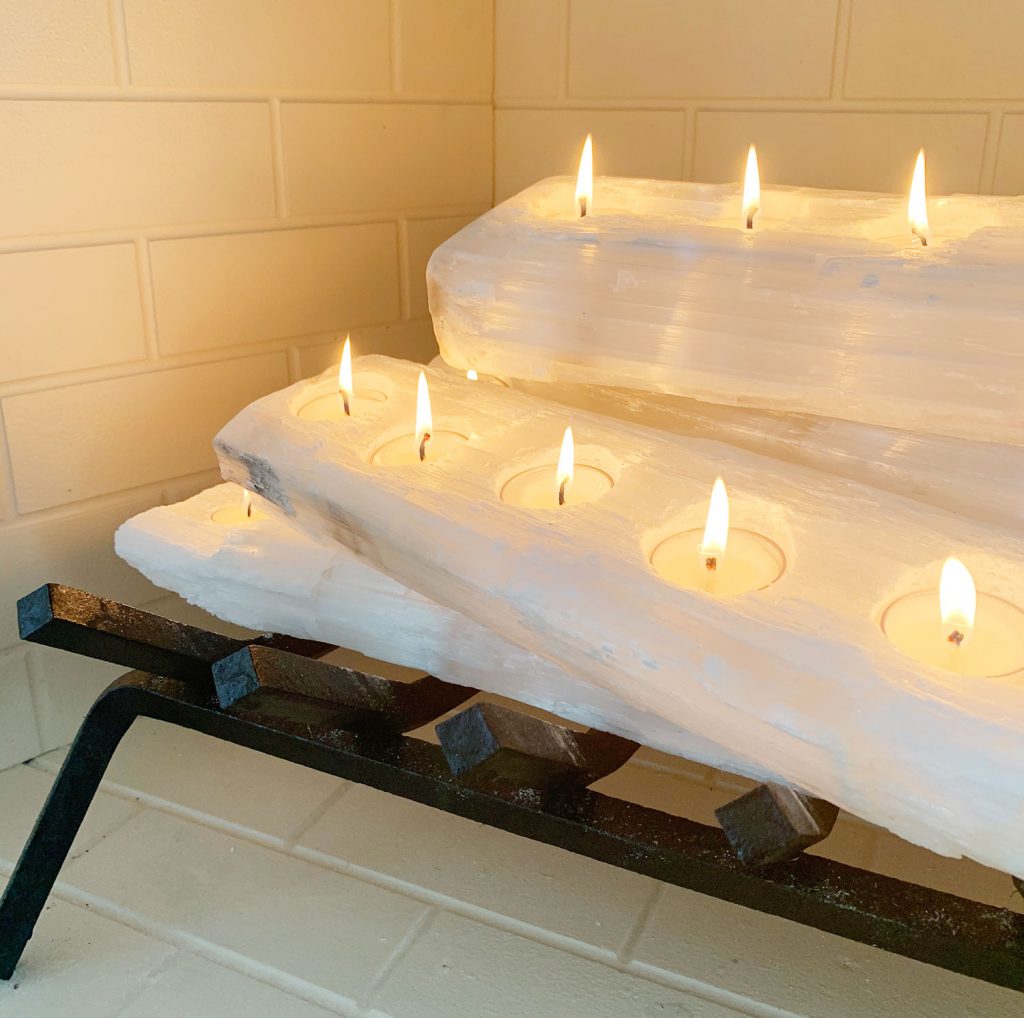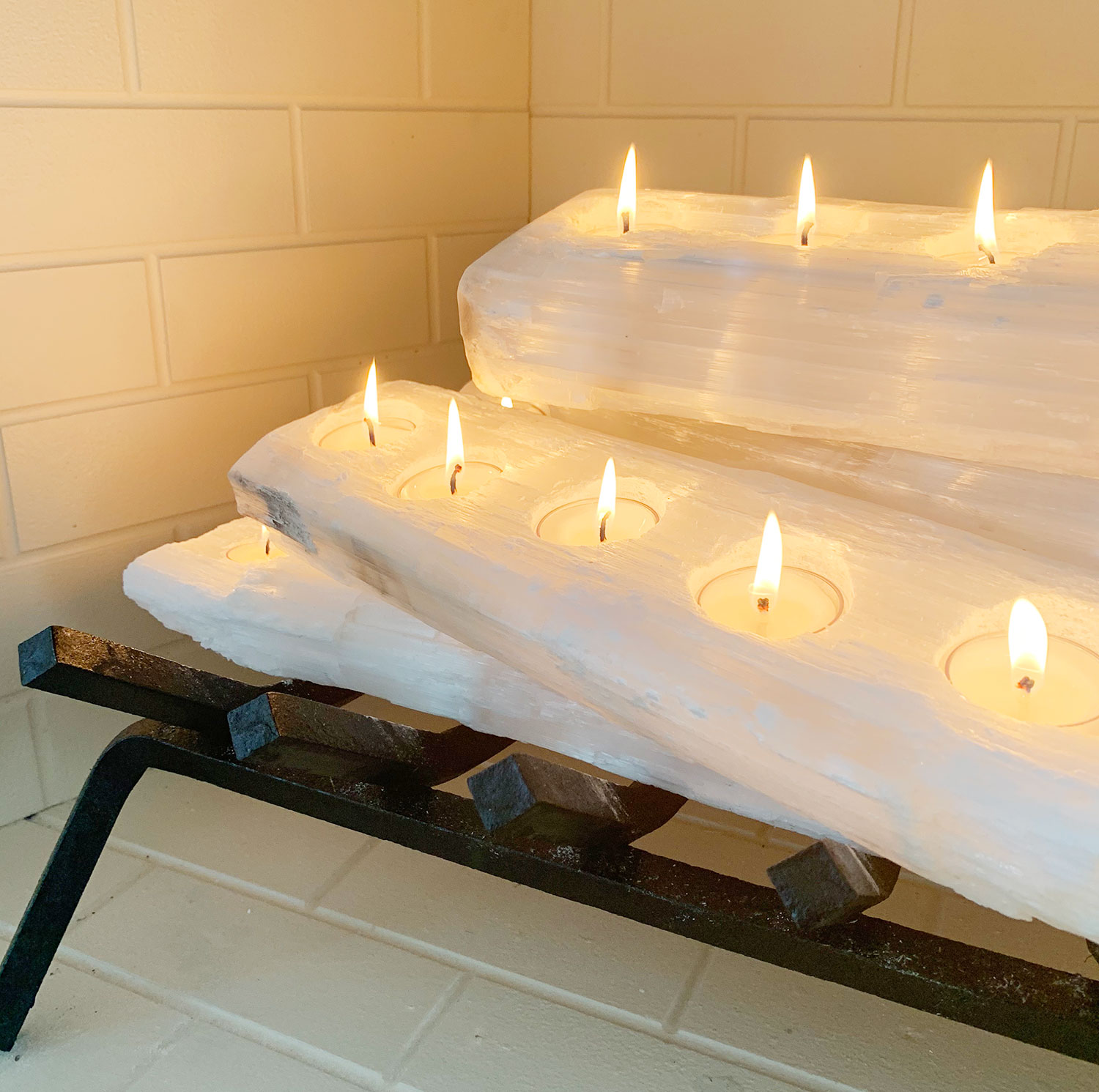 You have to watch the video we made of them burning that's a little further down in this post to get a much better visual of what it's like when they're lit (they look a lot less like exciting in the still pictures – probably because there's no flickering, which is the mesmerizing part). Is it an identical substitute for an actual working fireplace? No. But since the gas company closed the door on that option, we're extremely happy with where we ended up. We can get that glowy ambiance when we light the candles, and still enjoy a light & beachy feeling fireplace the rest of the time – even when they're not lit.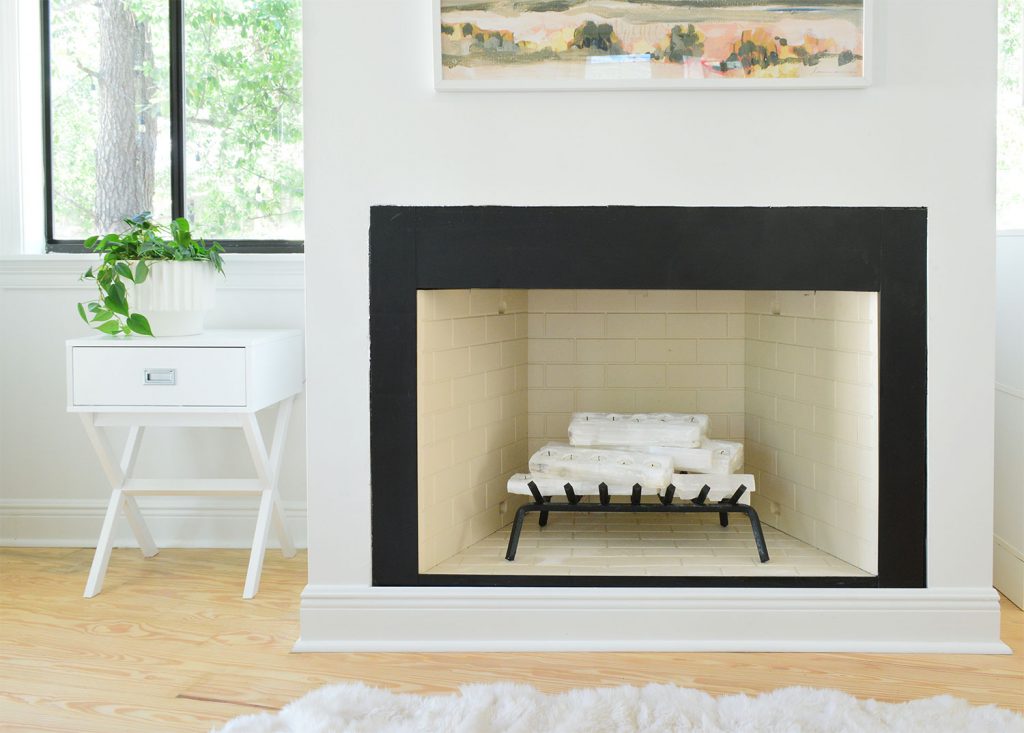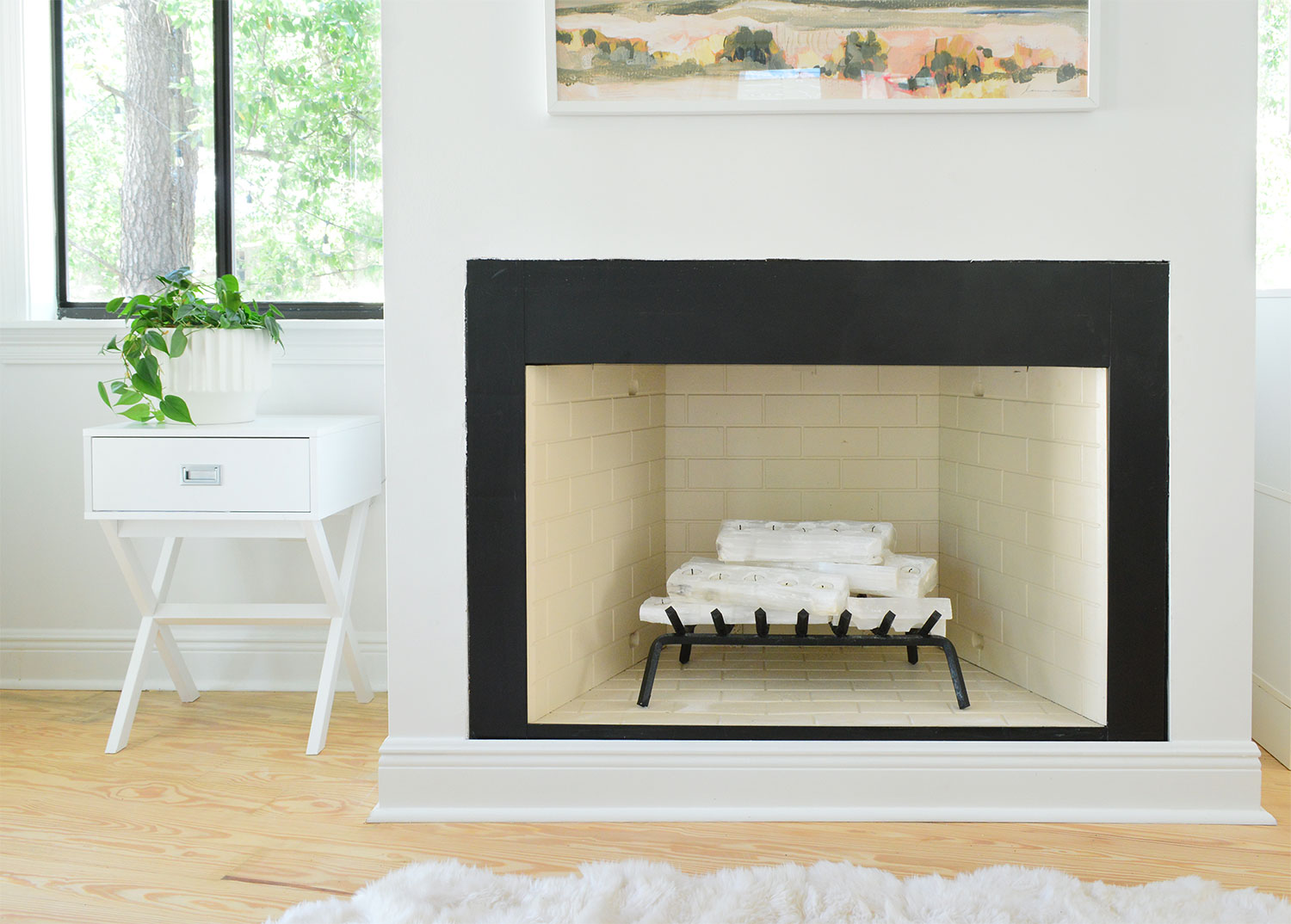 Here's a closer shot. They really do look sort of "glimmery" in person even when they're not lit. And they're extra special when they're flickering in the evening after the kids are in bed (these are the clean burning beeswax tealights we got for them).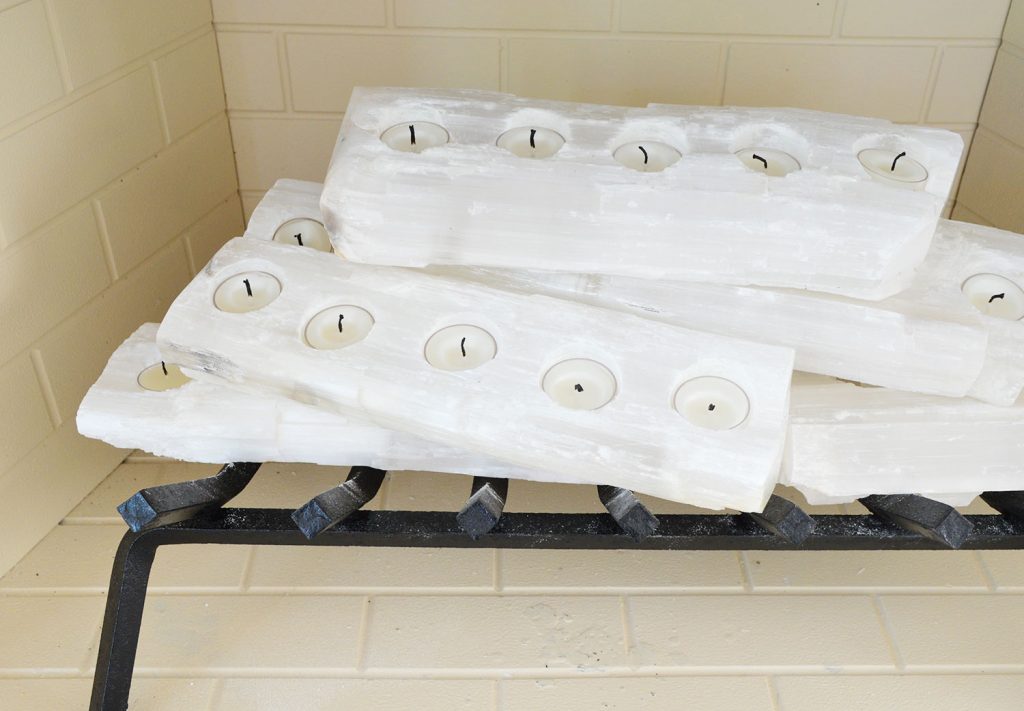 I just realized that the candles + crystals + furry rug = some sort of romance novel scene (maybe it should be the cover of my book??). You should know that Burger REALLY likes sleeping on that fluffy rug – so much so that he couldn't even stay away while we were taking the photos for this post.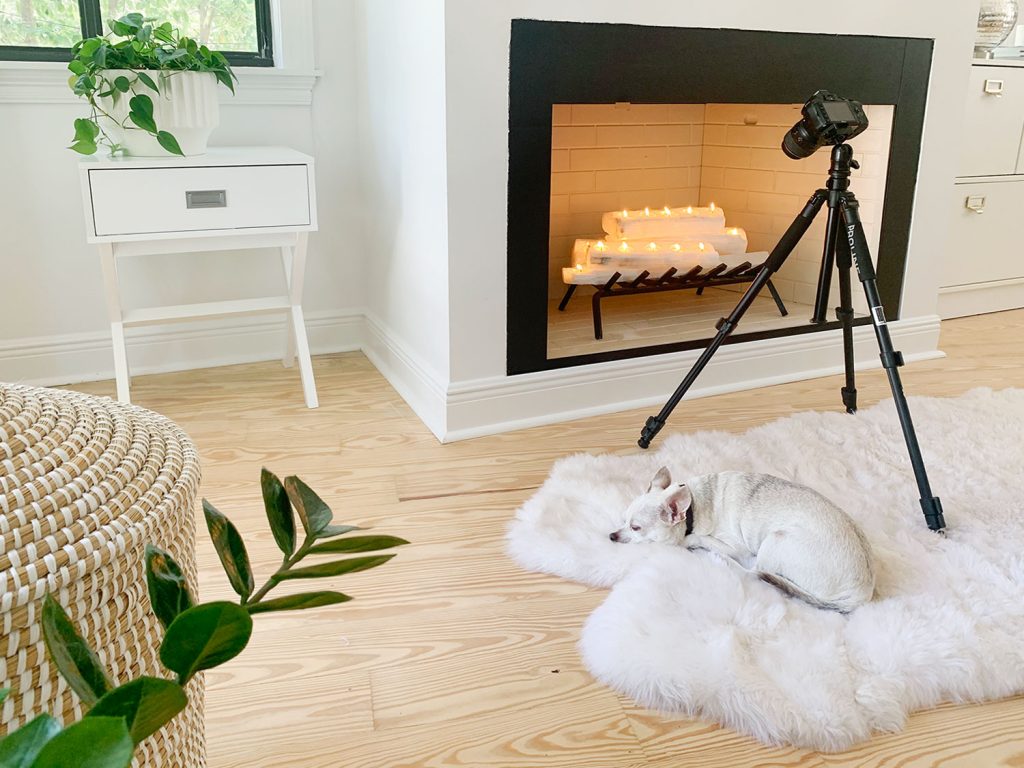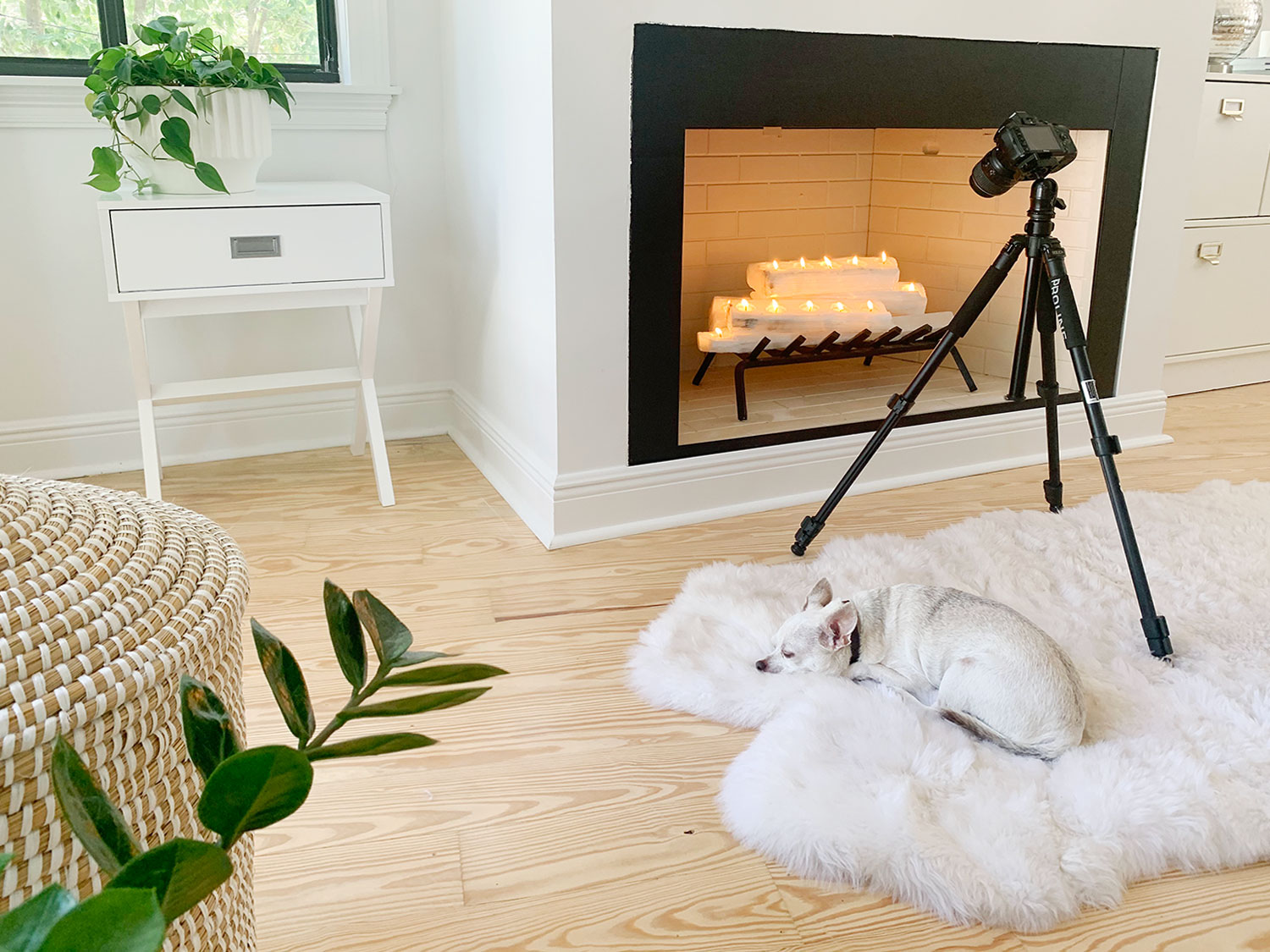 As previously mentioned, here's our quick video that shows some of this project in action (including our tragic first attempt at "filling" the fireplace with candles, which is hilariously pathetic). Also there's nothing like seeing the candles flicker in the firebox on video, versus being all static and basic in the pictures of this post. Yeah I said it. These non-moving flame pics are basic.
Note: If the embedded video above does not load, you can also watch it here on YouTube.
You'll also see in the video that we painted the inside of the firebox before adding the crystal logs. Sherry tried scrubbing the bricks with baking soda to remove the soot and that's when we realized these weren't bricks at all – they're a thin metal insert on all three sides that looks like brick.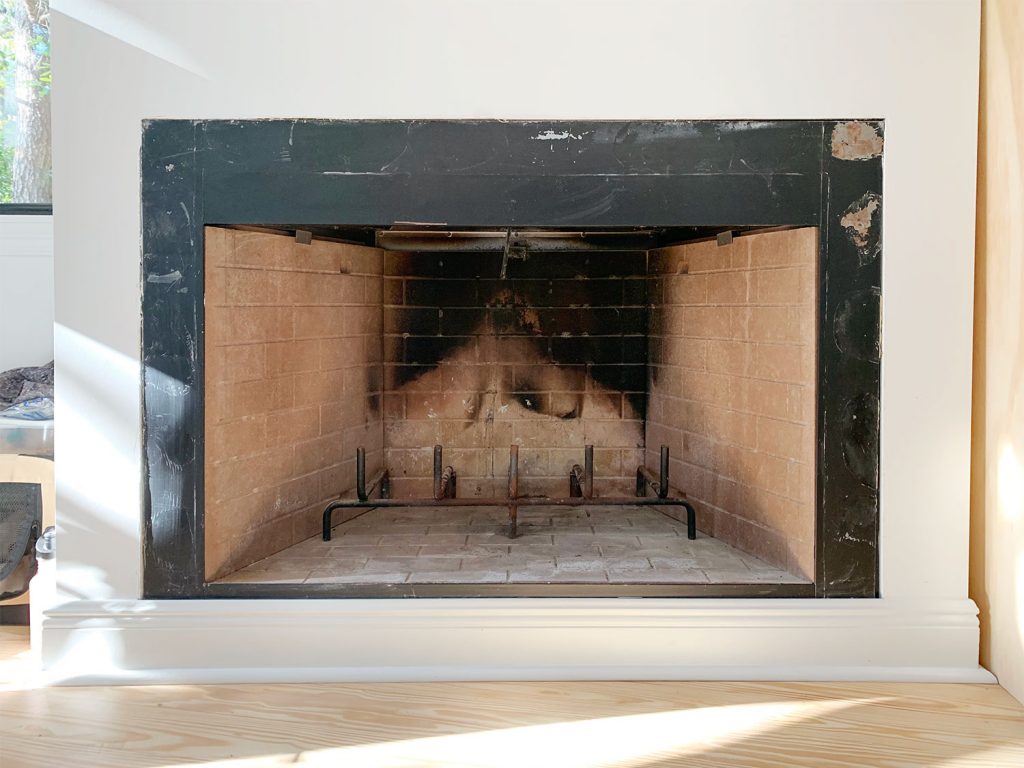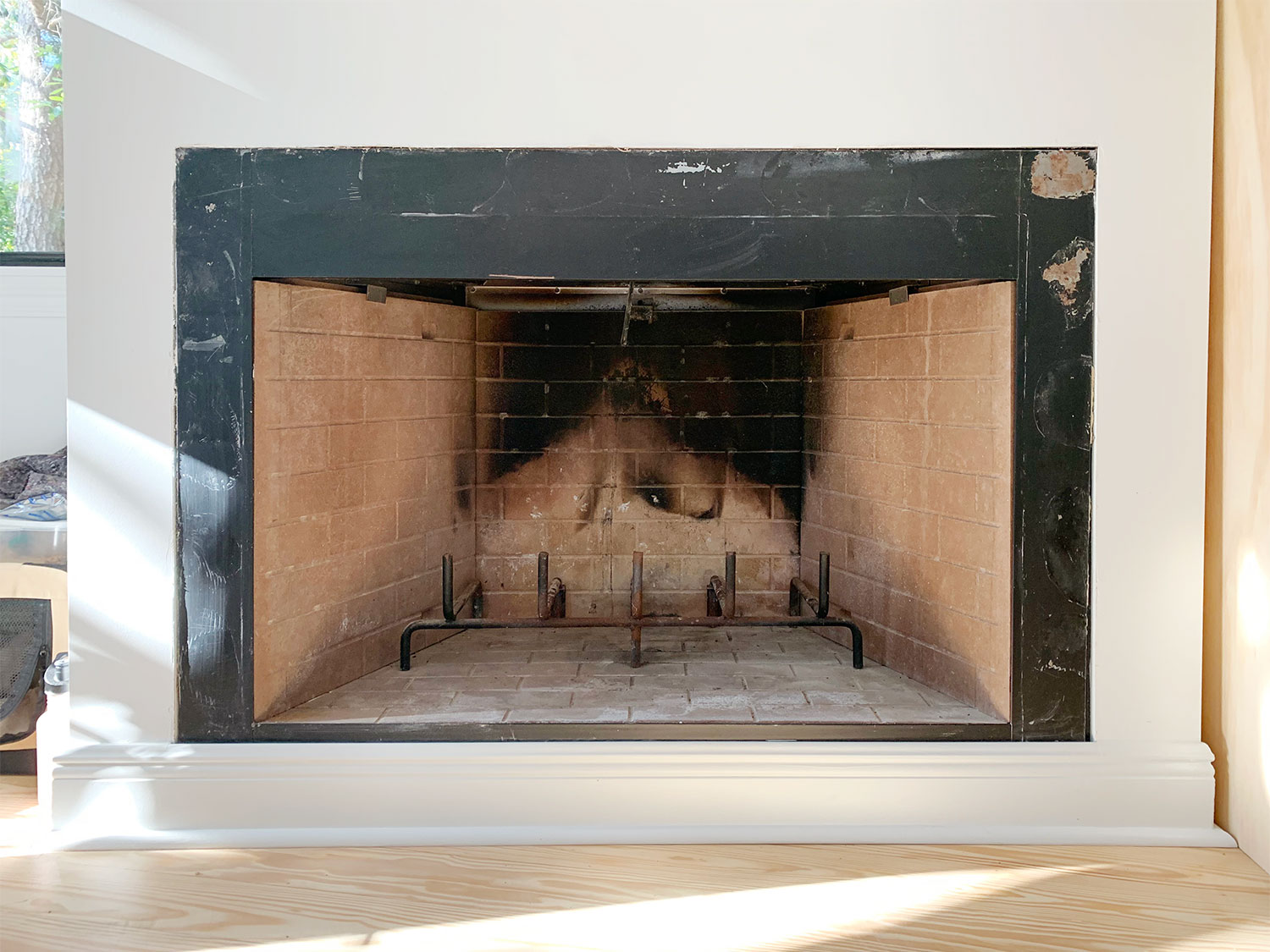 Scrubbing it didn't get the soot stains out, but we knew the logs would look better and brighter with a lighter background behind them. Luckily the faux brick metal panels took paint really well, so we put on two coats of Almondine by Sherwin Williams in a satin finish on them and in about 30 minutes they looked like new.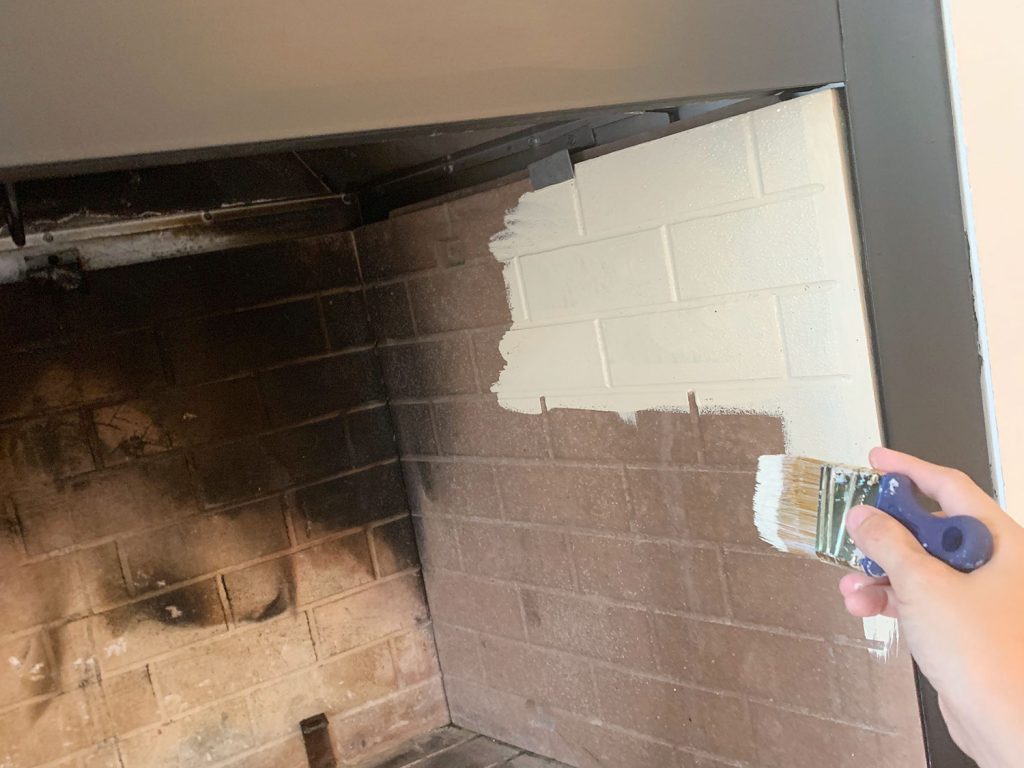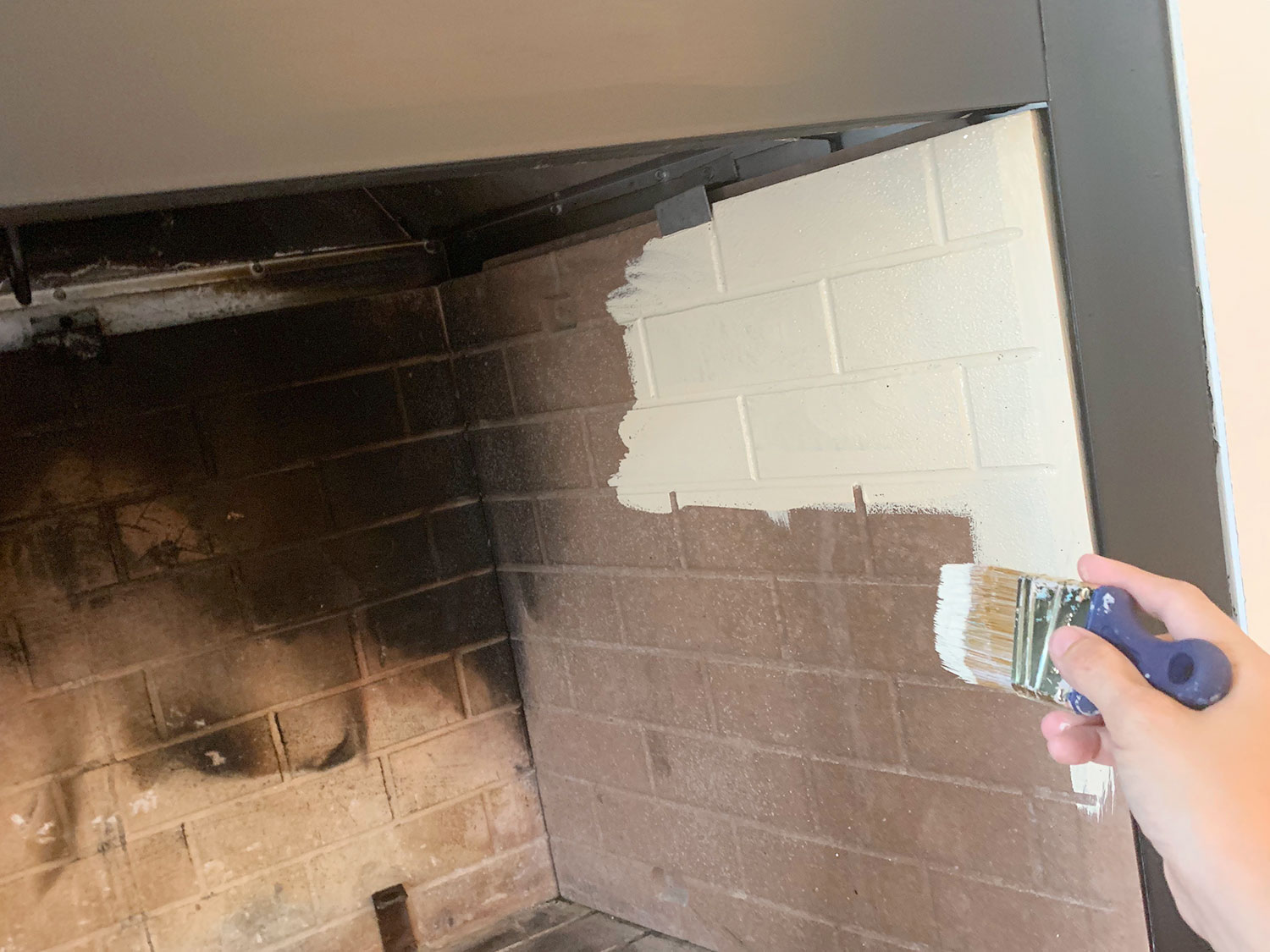 It's a light sand color that ties into the tones in our floors and the art above the fireplace. Plus it makes the firebox less of a "black hole" when the candles aren't lit. And once we actually add that mantle and/our trim surround I think it'll finish things off nicely.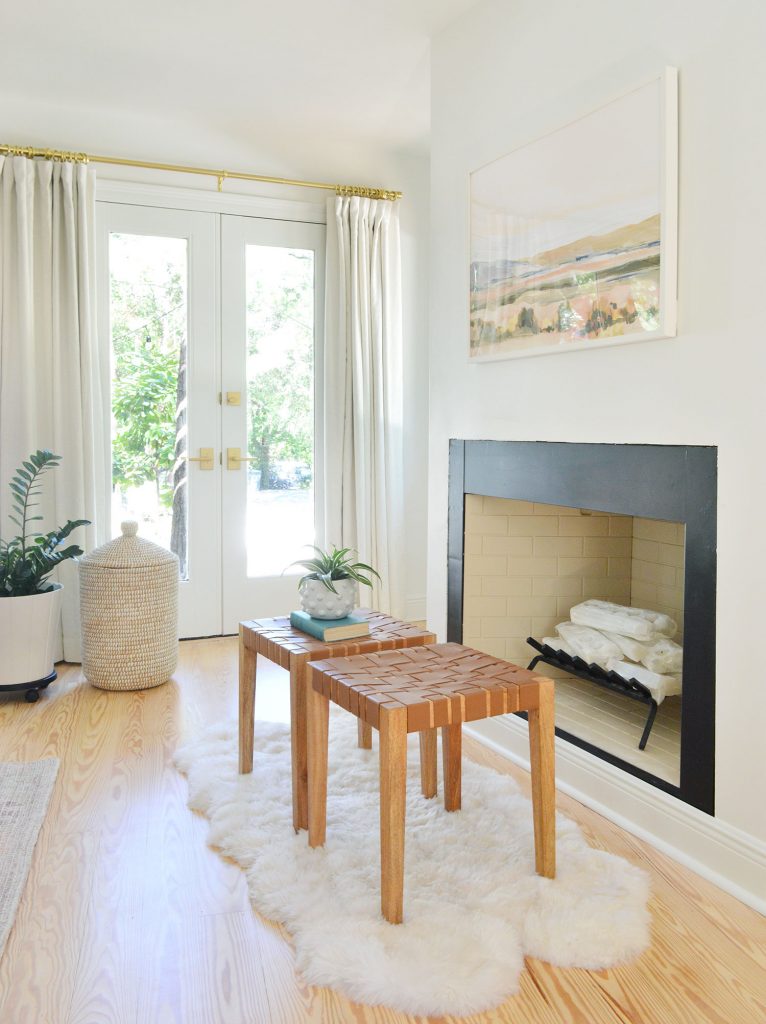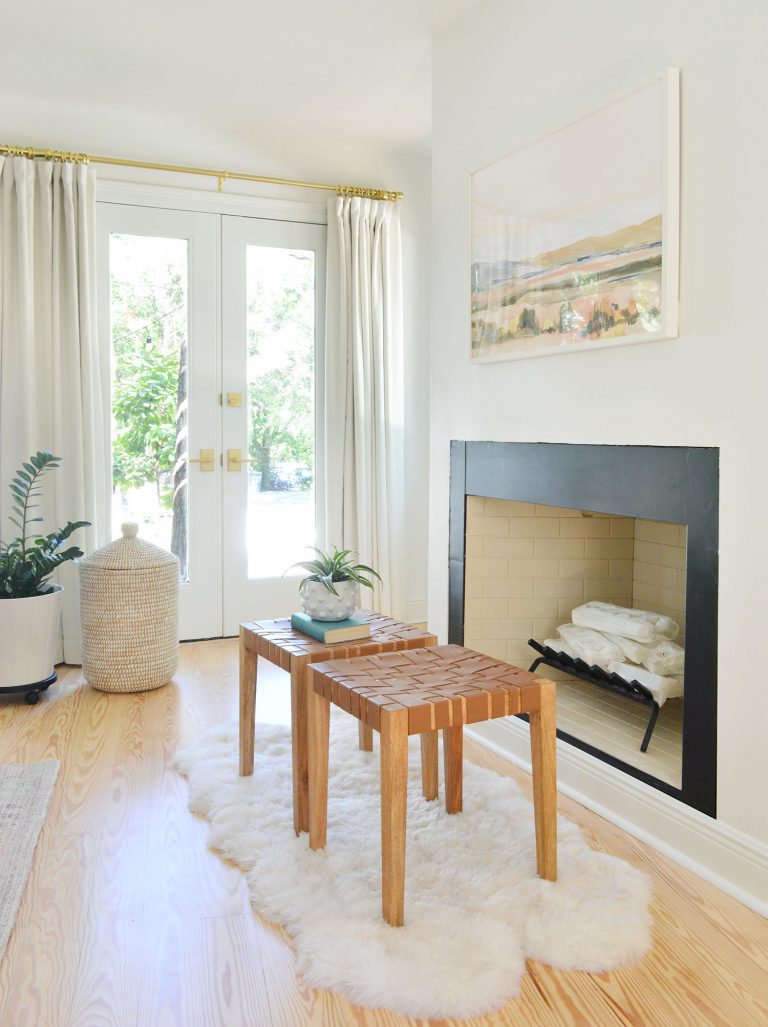 We're also gearing up to add built-in cabinets on either side of the fireplace under the windows (because yes, that tiny white end table is way too small for that spot). More details to come… once we figure them out.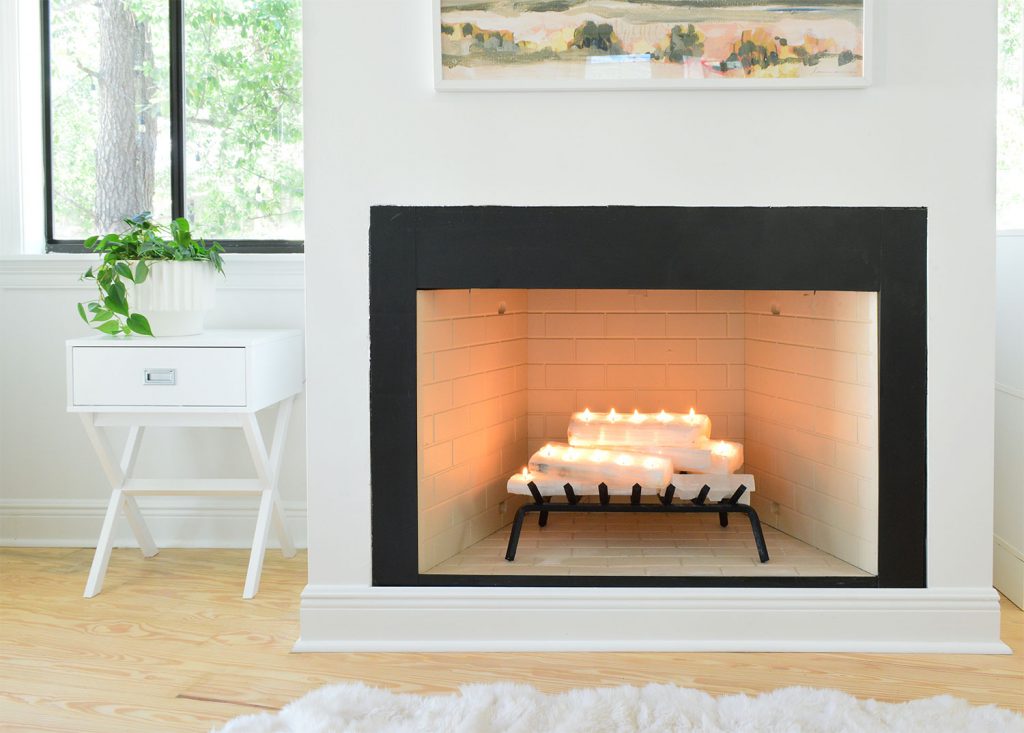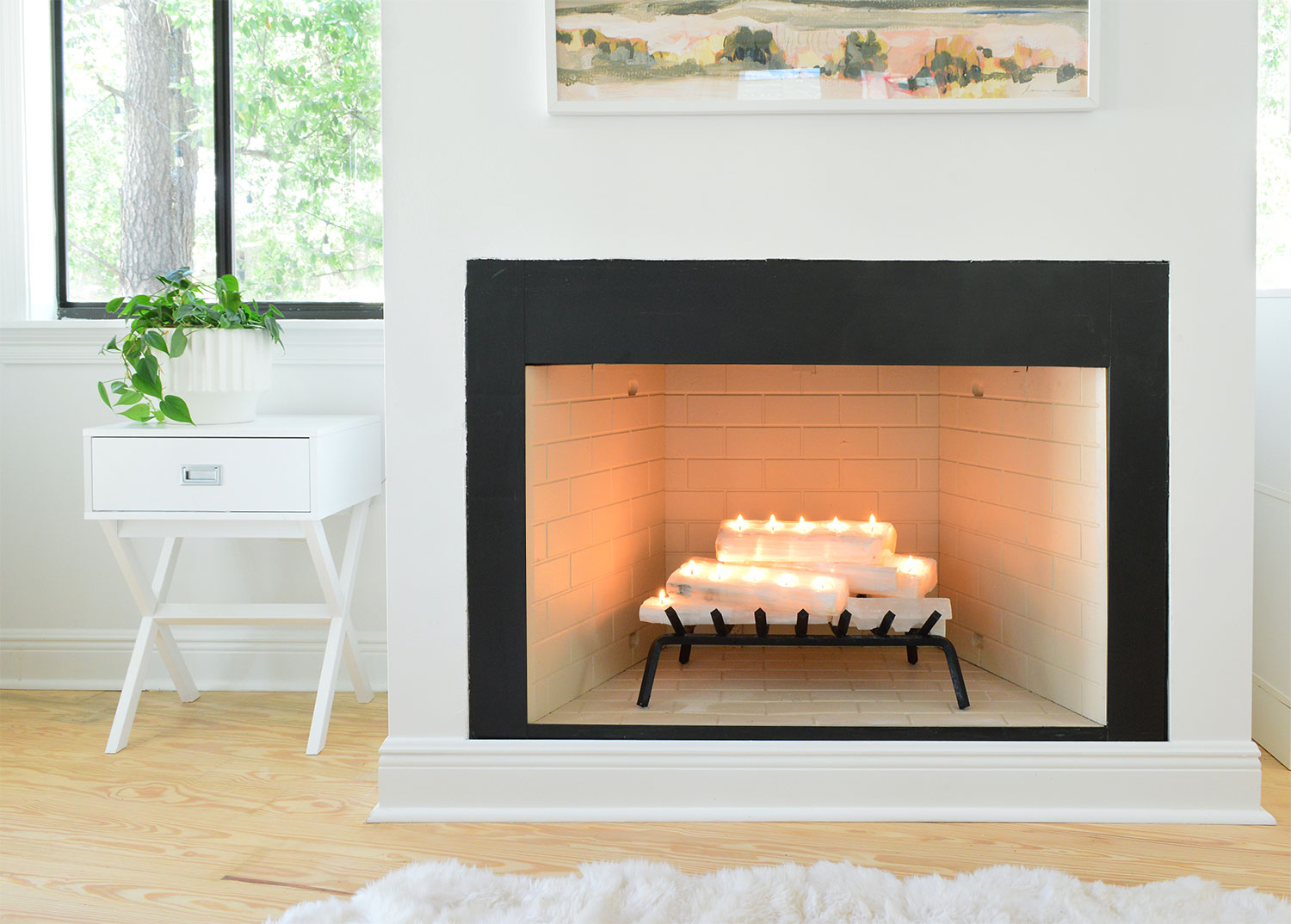 P.S. IN LAST WEEK'S POST ABOUT OUR KITCHEN STORAGE WE GOT SO MANY QUESTIONS ABOUT WHERE THE FOOD IS. The freestanding shelving system to the right of the fridge with four extra wide drawers is our "pantry" (that info was written in the post, just not pictured) and you can see Sherry pull it open on video back in this older post.
P.P.S. You can see our entire Florida house reno right here. From our family room/office to our kids rooms & the kitchen (and our only bathroom), you can get all caught up quickly (there aren't that many posts because this house doesn't have that many rooms).
*This post contains affiliate links*
More posts from Young House Love