SpaceX President Calls Elon Musk 'A Brilliant Man,' Despite Bizarre Behavior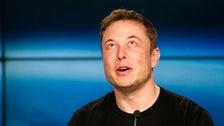 The president of SpaceX said Tuesday that Elon Musk, the company's founder and CEO, was "as lucid and capable as he has ever been," despite a months-long blitz of behavior that has rattled investors and caused some to question his ability to run several of the world's most ambitious companies.
"Elon is a brilliant man," Gwynne Shotwell, the president and chief operating officer of SpaceX, said in Paris this week after speaking at a satellite industry conference, according to Bloomberg News. "I wish people would not focus on triviality."
Her comments come on the heels of a long summer for Musk. The entrepreneur, who also runs Tesla, drew widespread condemnation in July after baselessly calling a British diver involved in the rescue of a Thai soccer team a "pedo guy." He later apologized but then earlier this month lashed out once more, labeling the rescuer as a "child rapist" without providing any evidence.
In a sweeping interview with The New York Times last month, Musk said the past year was "the most difficult and painful year of my career," noting that he was struggling to keep hold of everything. He said that he had not taken more than a week of vacation since 2001 due to his workload, and he described taking Ambien to help him sleep.
"There were times when I didn't leave the factory for three or four days ― days when I didn't go outside," Musk told the Times. "This has really come at the expense of seeing my kids. And seeing friends."
Shotwell said that Musk's behavior has had "no impact at all" on the confidence some of SpaceX's backers have in the CEO and that there was "no chance" that the antics would influence the company's future contracts. Bloomberg News noted that SpaceX is expected to fly about 22 missions this year and is planning a second flight of its landmark Falcon Heavy rocket.
"Look at the work that Elon's companies do and focus on that," she said, according to Bloomberg News. "Not on what he does."