Trump and Biden attend 9/11 memorial ceremonies – US politics live | US news
Fauci: Life will not go back to normal until 'well into 2021'
Harris evokes unity in 9/11 remarks
Milley defends protest, free press in America
While Donald Trump and Joe Biden studiously kept their public words an interactions largely apolitical today at the 9/11 events they attended, the chairman of the joint chiefs of staff was less neutral.
Mark Milley was at the Pentagon this morning to commemorate the loss of life when one of the four passenger jets hijacked that day in 2001 was deliberately crashed into that building, on the outskirts of Washington, DC, killing 125 people inside and all passengers and crew on the plane.
It was a rare appearance and speech for army general Milley since he apologized for being part of the Donald Trump's photo op in Washington's Lafayette Square when peaceful civil rights demonstrators were cleared by force in the summer.
Milley spoke in defense of the free press when listing examples of what he cited as values that the US armed forces went to war for after the 9/11 attacks by al-Qaida.
"The idea of a free press, free speech, due process … the right to peacefully assemble, and demonstrate and protest," he said.
He added that all Americans are created free and equal and should succeed based on their merit, regardless of their backgrounds.
"Those ideas were and still are hated by our enemies – by fascists, Nazis, communists, al-Qaida, Isis, authoritarians, dictators and tyrants of all kinds. They hate those ideas. They hate those values," he said.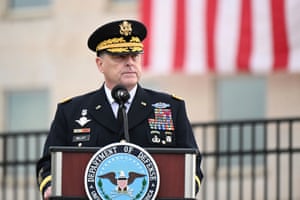 Today so far
Trump confirms Bahrain is normalizing ties with Israel
Fauci disputes Trump's claim that we are 'rounding the final turn' of coronavirus
Trump expected to announce Bahrain is normalizing ties with Israel – report